John Kitzhaber's Troubles Are Far From Over
Kitzhaber and Cylvia Hayes could face a wide variety of charges from state and federal officials.
By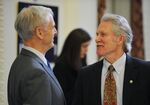 Oregon Governor John Kitzhaber's resignation will take effect on Wednesday, but after he steps down, the fourth-term Democrat and his fiancee, Cylvia Hayes, will still be facing legal trouble: At least four investigations by both state and federal agencies have been launched into their conduct.
The story of how the couple arrived at this moment is convoluted but centers on allegations that Hayes worked as an adviser to the governor while being paid hundreds of thousands of dollars to push certain policies in that role, and that she failed to report income from those activities. (Kitzhaber has asserted his innocence, and no charges have been filed and him or Hayes.)
As detailed by the Oregonian, the couple faces investigations from a variety of state and federal agencies, including the U.S. Congress.
On Friday, the same day that Kitzhaber announced he would resign, the U.S. House of Representative's Committee on Oversight & Government Reform issued a binding demand to Kitzhaber's office and reelection campaign for "wide-ranging" documents pertaining to his role in shutting down Cover Oregon, the bug-plagued insurance exchange that the state used before switching to the federal exchange. A letter accompanying the demand cited an instance in which a staffer apparently attempted to delete correspondence regarding the decision, over which the technology company Oracle, which built Cover Oregon, is suing the state, claiming that the termination of the site was politically motivated.
Also on Friday, a federal grand jury sent a "three-page subpoena to the state Department of Administrative Services" that outlined "what looks to be the largest criminal investigation of a public official in Oregon," the Oregonian reported. The grand jury is seeking "any state record mentioning Hayes, her private consulting business and her role in the governor's office. They want her personal tax returns and those of her company dating back to 2009. The state also must turn over records of her use of state credit cards. The state is ordered to turn over emails, correspondence, memos and other state records about Hayes' clients... ." If charged and convicted, they could face fines of $250,000 and up to 20 years in jail under the "honest services" statutes that former Virginia Governor Bob McDonnell was recently convicted, the newspaper claimed.
The couple is also the target of a state ethics investigation and a separate state criminal investigation, the latter of which could result in a punishment of up to a year in hail. Those investigations could yield charges of influence peddling, official misconduct, or bribery, the Oregonian said.