Saudi Stocks Rise to 12-Week High as Oil Fans Gulf-Market Rally
Sarmad Khan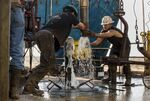 Saudi Arabian stocks climbed to a 12-week high, leading a rally in most regional equity markets, as Brent crude's advance above $60 a barrel stoked optimism oil revenue in Gulf nations will rise.
The Tadawul All Share Index in the world's biggest oil exporter gained 2.3 percent to close at 9,467.06, the highest since Nov. 23. Abu Dhabi's ADX General Index and Dubai's DFM General Index both jumped 1.5 percent to close at the strongest levels since Dec. 7 and Dec. 28, respectively. Qatar's QE Index rose 0.7 percent.
Brent climbed in the two days through Friday to $61.52 a barrel after U.S. drillers cut the number of rigs in service to the fewest since August 2011, stoking speculation it will slow crude output and curb a global glut. The Standard & Poor's 500 Index closed at an all-time high and the Stoxx Europe 600 Index added 0.6 percent on Feb. 13.
"With oil breaking above $60, stocks will react positively in the interim and the global equity rally last week is also a driving factor, helping regional markets move higher," Ramez Merhi, a Dubai-based director for asset management at Al Masah Capital Ltd., which manages $500 million, said by e-mail. "The price of Brent found a floor at $50 last month, a price at which there looks to be strong demand. The market has been waiting for some semblance of a foundation to build off of and it looks like that's what has happened."
Oil Prices
The six-nation Gulf Cooperation Council, which includes the United Arab Emirates, Saudi Arabia and Qatar, is home to about a third of the world's proven oil reserves. Governments in the region rely on oil revenue to fund their budgets.
Oil prices may rise further after Libya's state-run oil company warned yesterday it would shut production at all fields if authorities failed to contain an escalation of attacks on facilities that has cut crude output to a year-low.
"The current turmoil in Libya is obviously seen as an additional boost for oil prices," Julian Bruce, the head of institutional trading at EFG-Hermes U.A.E. Ltd. in Dubai, said by e-mail.
Tadawul's RSI
Brent has risen 7.3 percent this year, helping fuel a 14 percent rise in Saudi Arabian stocks. The Tadawul is the world's best performing index this year among more than 90 gauges tracked globally by Bloomberg in dollar terms after Russia's main measure. The gauge's 14-day relative-strength index climbed to 68. A level close to 70 suggests to some analysts that securities have risen too much and are poised to drop.
In Saudi Arabia, Saudi Basic Industries Corp. added 2.1 percent. The company, one of the world's largest petrochemicals makers, named Yousef Al-Benyan as acting chief executive officer after Mohammed Al-Mady stepped down to be president of Saudi Arabia's Military Industries Corp.
Saudi real estate developer Jabal Omar Development Co. jumped 7.2 percent to 69.04 riyals, the highest on record. Utility provider Saudi Electricity Co. climbed 9.7 percent to 19.49 riyals in more than seven times the three-month average daily volume. It has risen 21 percent in six days of gains.
"There is some speculation that Saudi Electricity could announce news about some regulatory changes, which could affect the company in a positive way and investors are buying in anticipation of that," Mazen Al-Sudairi, the Riyadh-based group head of sell-side research at Alistithmar Capital said by telephone. "People are also building positions in general based on stocks that could be targeted by foreign investors when the market opens up, and Saudi Electricity is among those along with petrochemical companies."
Emaar Profit
Aldar Properties PJSC, the largest publicly traded real estate developer in Abu Dhabi, jumped 5.8 percent to 2.74 dirhams, the highest since Dec. 29. The company appointed Talal Al Dhiyebi as chief development officer, replacing Gurjit Singh.
Emaar Properties PJSC, the developer of Dubai's Burj Khalifa, the world's tallest tower, advanced 4.6 percent to 7.58 dirhams. The company said it continues to pursue opportunities in Egypt.
The Dubai-based developer's net income advanced 28 percent to 3.29 billion dirhams ($901 million), the company said in an e-mailed statement after the market closed. The mean estimate of nine analysts surveyed by Bloomberg was 3.31 billion dirhams.
Egypt Rises
Oman's MSM 30 Index climbed 0.3 percent, while Bahrain's BB All Share Index lost 0.4 percent. Kuwait's SE Price Index fell 0.1 percent.
Egypt's EGX 30 Index advanced 0.4 percent. Talaat Moustafa Group Holding, the country's biggest publicly traded property developer, added 0.6 percent after El Shorouk newspaper reported the company reached a deal with the government to settle a five-year old land dispute.
Israel's TA-25 Index gained 0.5 percent, the most since Feb. 3. Bank Hapoalim Ltd. led the increase with a 1.1 percent advance to 16.94 shekels, the most since Feb. 4. The yield on the government's bond due 2024 gained two basis points to 1.83 percent.
Before it's here, it's on the Bloomberg Terminal.
LEARN MORE