business
FAA: Small Drones Will Provide Significant Benefits
Alan Levin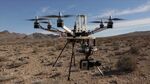 The first commercial drones in the U.S. will have to stay lower than 500 feet and within sight of an operator, and fly during daytime only, federal regulators say.
An economic analysis to justify opening the nation's skies to small commercial unmanned aircraft, obtained by Bloomberg News, provides the first glimpse of how the Federal Aviation Administration plans to integrate robotic and remote-controlled aircraft into the civilian aviation system. The content of the document was verified by a person familiar with the regulatory process.
It shows that the agency initially won't permit the kind of delivery flights by drone envisioned by Amazon Inc. Chief Executive Officer Jeff Bezos. The company is designing a drone to allow same-day delivery of packages. Google Inc. and Alibaba Group Holding Ltd. have also experimented with such technology.
Allowing drones to be flown for business purposes in the U.S. may produce $100 million or more in economic benefits, according to the FAA document. Even without those benefits, allowing drone flights is justified if it saves even one life, the document stated.
One such use would be inspecting radio and telecommunications towers. Ninety-five workers died climbing these towers from 2004 through 2012, the FAA said. Similarly, 17 manned aircraft performing aerial photography crashed from 2005 through 2009, killing 19 people, according to the FAA.
The FAA forecast the rule would cost $6.8 million in its first five years. The agency uses an estimated value of $9.2 million for the cost of a human life.
Industry Support
The document is the first step toward fulfilling a 2012 mandate by Congress for the aviation-regulation agency to accommodate unmanned aircraft into U.S. skies. The proposal, which is years behind schedule, won't take effect until long after Congress's Sept. 30 deadline.
The FAA's proposed rulemaking would allow commercial drone flights with devices weighing less than 55 pounds (25 kilograms). The agency must first accept public comments before completing the rule, which may take as long as two years.
"This is a wonderful start," Michael Drobac, executive director of the Washington-based Small UAV Coalition, which represents companies including Amazon and Google seeking broader permission to fly drones.
The FAA has agreed with the industry that a traditional pilot's license isn't necessary and, while there will be strict flight limitations, they aren't as burdensome as they could have been, Drobac said. Now the question is how quickly the FAA can complete the regulations, he said.
Limited Flights
While the document doesn't contain all of the FAA's proposed flight restrictions on drones, which it calls unmanned aircraft systems or UAS, it shows the first commercial flights will be limited. A prohibition on flying over crowds, for example, would appear to prevent photography of sporting events -- something some drone operators have been doing illegally.
The requirement that drones must be flown within sight of an operator would effectively ban long-range flights. The FAA said it rejected the use of streaming video images to fly a commercial drone because the technology isn't reliable enough.
The FAA examined commercial drone operations in four categories: aerial photography, agriculture, law enforcement and search-and-rescue, and inspections of bridges.
"These four examples show that this proposal would not only enable new technologies for these markets and other new marketplace opportunities, but utilizing a small UAS in place of a manned aircraft would save costs and improve safety," the FAA said in the document.
Projected Benefits
If sending drones above farm fields to inspect crops provides a $5 cost savings per acre, that alone would create billions in value, according to the agency.
Users would have to pass a knowledge test before flying, according to the FAA document. Operators wouldn't have to obtain a traditional pilot's license, which costs thousands of dollars.
In addition to passing a knowledge test, the FAA is proposing that commercial drone pilots have to take recurring tests every two years. It projects there will be 7,550 licensed drone pilots within five years of the law becoming final.
Owners of drones used commercially would have to register the craft with the agency, according to the proposal.
Micro Drones
The FAA said for the first time it is also considering creating a category of "micro" drones with less regulation.
These drones would weigh less than 4.4 pounds (2 kilograms) and be made of soft materials that wouldn't hurt people in a collision, the FAA said. The FAA said it is considering allowing pilots to fly these less risky drones without having to take the knowledge test.
The agency hasn't decided whether to seek this new category and is asking the public for its reaction.
The proposal would add a new layer to the patchwork of rules and policies governing drone operations in the U.S.
Congress exempted hobbyists from regulations as long as they abide by guidelines by groups such as the Muncie, Indiana-based Academy of Model Aeronautics. The AMA requires members to steer clear of traditional planes and helicopters, stay within 400 feet (122 meters) of the ground and avoid unprotected people and property. Pilots who want to fly within 5 miles (8 kilometers) of an airport must notify the FAA.
The FAA has approved 29 exemptions allowing commercial drone flights by companies before regulations are completed. Seven are for moviemakers. The others wanted to do surveying, construction-site monitoring, petroleum-industry equipment inspections and agricultural surveys.
The FAA has a separate process to provide certifications for government agencies flying drones, from the National Aeronautics and Space Administration to local police. Restrictions vary by size and uses.
(Updates with benefits, reaction from fourth paragraph.)
Before it's here, it's on the Bloomberg Terminal.
LEARN MORE