Storm Cancels Flights as Snow Hits New England
Brian K. Sullivan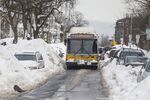 Travel disruptions and power outages may ripple through the northeastern U.S. and Canada as a winter storm moves in, threatening to bring frigid temperatures, blizzard conditions and as much as 2 feet of snow to parts of New England.
Eastern Massachusetts, including Boston, may get 8 to 12 inches (20 to 30 centimeters) of snow, along with wind gusts of 60 miles (97 kilometers) per hour, the U.S. National Weather Service said. The state's northeastern corner, along with the New Hampshire coast and southern Maine could get 5 to 8 inches. As much as 18 inches may fall along Maine's northern coastline.
"The Northeast will get significant snow," said Bruce Sullivan, a meteorologist with the U.S. Weather Prediction Center in College Park, Maryland. "It could get pretty dangerous."
The impact will be felt far beyond New England. New York's five boroughs may get 3 to 7 inches of snow and a blizzard warning has been issued for eastern Long Island through Sunday. High winds and plunging temperatures are forecast to make it feel minus 20 to minus 30 Fahrenheit (minus 29 to minus 34 Celsius) from the upper Great Plains to New England, with some areas even colder.
Snow is forecast to start in Boston late Saturday and build into Sunday.
Trains Idled
The Massachusetts Bay Transportation Authority has suspended all service for Sunday, when the blizzard is forecast to be at its worst, according to its website. Amtrak has reduced weekend service between Boston and Portland and Brunswick, Maine.
The approaching storm led airlines to cancel 1,291 flights across the U.S. set for Sunday. Most of those were at Boston's Logan International Airport and the New York area's John F. Kennedy International, LaGuardia and Newark Liberty airports, as of 6:15 p.m. New York time on Saturday, according to FlightAware, a Houston-based airline tracking company.
The high winds and heavy snowfall may cause deep snow drifts in Boston and eastern New England, said Bernie Rayno, a meteorologist with AccuWeather Inc. in State College, Pennsylvania.
"I think people are going to be in awe," Rayno said Friday. "You cannot get that much snow and that much wind; this is going to be a full-fledged blizzard that is going to shut everything down Sunday morning."
Snowy Season
Through Friday, Boston has received more than 79.5 inches of snow, the weather service said. Boston's snowiest season on record brought 107.6 inches in 1995-1996.
Outside New England, the storm is also forecast to bring 6 to 12 inches of snow to upstate New York, including Rochester, and 4 to 7 inches in Buffalo through Sunday, the weather service said.
At sea, hurricane-force winds of at least 74 mph are forecast to sweep the Atlantic coastline Sunday.
The storm will also take aim at Canada's Maritime Provinces.
Winter storm, blizzard and extreme cold warnings have been posted from eastern Quebec through New Brunswick, Prince Edward Island and Nova Scotia, as well as parts of Newfoundland, according to Environment Canada.
Halifax could get as much as 12 inches of snow on Sunday, as well as an inch of rain, the agency said.
Sudden Squalls
While the main thrust of the snow will hit New England, other parts of the eastern U.S. could see sudden squalls bringing an inch or two in a short time and making driving difficult through the night, said Sullivan, the Weather Prediction Center meteorologist. These storms could form as the frigid air rushes into eastern U.S. late Saturday, when many couples will be out celebrating St. Valentine's Day.
The high winds could cause power outages far beyond where the heaviest snow falls. A high wind warning is in place from New York to western parts of North Carolina.
"If you lose power and plan on running a generator, make sure that the generator is located outdoors and is properly ventilated," the weather service said in a warning.
Because of the cold that will sweep through the region, Sullivan said people should gather extra blankets to stay warm in the event of an outage.
Temperatures are forecast to be as low as low as 1 degree in New York's Central Park on Sunday; 1 in Philadelphia; 6 in Washington; and 9 in Richmond, Virginia, the weather service said.
Before it's here, it's on the Bloomberg Terminal.
LEARN MORE