Five Obama Tech Takeaways
In San Francisco, the president talks tension with the tech community, cyber-security, and working out.
By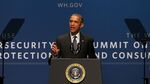 Five takeaways from President Obama's interview on technology issues with Kara Swisher of re/code:
1. Cyber-security is like basketball. Or a nuclear arms race:
"This is more like basketball than football, in the sense that there's no clear line between offense and defense. . . Eventually, what we're gonna need to do is to find some international protocols that, in the same way we did with nuclear arms, set some clear limits and guidelines; understanding that everybody's vulnerable and everybody's better off if we abide by certain behaviors. . . the same sophistication you need for defenses means that potentially you can engage in offense."
2. Things are still tense between Obama and the tech community:
"The Snowden disclosures were really harmful in terms of the trust between the government and many of these companies, in part because it had an impact on their bottom lines. . .  I also have tensions with Silicon Valley because folks are quite keen on talking about government intrusion. But some of the commercial models that are set up. . . are fairly intrusive as well."
3. He's thinking about getting an Apple watch. Or maybe he's just really into Tim Cook:
 "I don't have a Fitbit yet, but I work out hard. Word is that, you know, these Apple watches. . . might be a good—good companion for my workout. So I'm gonna see. I'm gonna test it out. I don't wanna give Tim Cook too big of a plug here. . ."
4. How he watches most of his beloved ballgames:
On DVR.
5. If his administration had a hashtag it would be:
#yeswecan