technology
Apple Is Working on an Electric Car, WSJ Says
Tim Higgins and Adam Satariano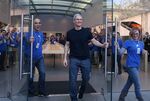 Apple Inc. is working on an Apple-branded electric vehicle, The Wall Street Journal reported.
The project is code-named Titan and the design resembles a minivan, according to the report. The Cupertino, California-based company has assigned several hundred employees to the vehicle. While a car may not ultimately result, some Apple executives have flown to Austria to meet with contract manufacturers of high-end cars, the report said, citing people familiar with the matter.
Apple already has expertise managing a vast supply chain and has technology that may lend itself to an electric car. The company has long researched battery technology for use in its iPhones, iPads and Macs. The mapping system it debuted in 2012 can be used for navigation. Last year, Apple also introduced CarPlay, a software system for automakers to use in its cars that integrates iTunes, mapping, messaging and other applications.
Apple has batted around the idea of developing a car for years. Phil Schiller, Apple's senior vice president of marketing, said in 2012 court testimony that executives discussed building a car even before it built the iPhone, which was released in 2007. Mickey Drexler, an Apple board member and head of J Crew Group Inc., also said in 2012 that Apple co-founder Steve Jobs had wanted to build a car.
Tom Neumayr, an Apple spokesman, declined to comment. The Financial Times reported earlier Friday that Apple is hiring auto experts to work at a new research lab.
Tesla Connection
Other Silicon Valley companies are also creating cars. Google Inc. is working on a self-driving vehicle. Tesla Motors Inc. also makes electric cars and the Palo Alto, California-based company has hired at least 150 former Apple employees, more than from any other company, even carmakers.
"From a design philosophy, [Apple] is relatively closely aligned," Elon Musk, Tesla's co-founder and chief executive officer, recently told Bloomberg Businessweek in an interview.
Musk also said Apple has been trying to poach Tesla employees, offering $250,000 signing bonuses and 60 percent salary increases.
"Apple tries very hard to recruit from Tesla," he said. "But so far they've actually recruited very few people."
Apple has hired from the auto industry over the years. Steve Zadesky, vice president of iPhone product design and who the Wall Street Journal reported is in charge of Titan, joined Apple 16 years ago from Ford Motor Co., where he was an engineer for three years.
Over the past two years, Apple also hired Haran Arasaratnam from Ford to work as a battery engineer, according to Arasaratnam's LinkedIn profile. Apple also brought on Robert Gough in January to work on special projects. He'd spent the past four years at auto supplier Autoliv working on projects including the company's radar division and developing active safety sensor technology, according to his LinkedIn profile.
Before it's here, it's on the Bloomberg Terminal.
LEARN MORE