Money-Laundering Link to Luxury Homes Probed by U.K.
Neil Callanan and Suzi Ring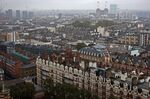 The U.K. National Crime Agency is seeking to determine whether higher-than-expected revenue from a tax on luxury homes owned by corporations is linked to money laundering.
The NCA has asked Her Majesty's Revenue and Customs why 100 million pounds ($154 million) was raised in the levy's first year, almost five times more than forecast by the government. Homeowners paying the tax of as much as 143,750 pounds a year can keep their identities hidden through trusts and overseas shell companies.
"There are suspicions and questions raised by it," Donald Toon, the NCA's economic crime unit director, said in a Feb. 11 interview in London. "If you have a prediction and it looks wildly out, there must be a reason for it."
The levy, known as the Annual Tax on Enveloped Dwellings, was imposed last year on homes valued at more than 2 million pounds that are owned by corporate entities and not leased. Chancellor of the Exchequer George Osborne extended the tax to add properties worth more than 1 million pounds this year and 500,000 pounds in 2016. He also introduced a 28 percent levy on capital gains generated by the homes after April 2013.
More than half of the revenue raised from the tax came from the London borough of Westminster, which includes the Belgravia and Mayfair districts, according to a government filing. A quarter of the total revenue was raised from properties valued at 20 million pounds or more.
"It's a lot of money to pay every year," Toon said.
Developers plan to construct 25,000 luxury homes worth about 60 billion pounds in the U.K. capital in the next 10 years, EC Harris LLP said in October. Luxury homes are defned by the consulting firm as those that will sell for 1,350 pounds a square foot or more.
Before it's here, it's on the Bloomberg Terminal.
LEARN MORE