Scott Walker and the Debate Over Questions
A candidate's refusal to answer a question speaks volumes.
By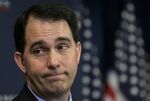 Wisconsin Governor Scott Walker was the latest Republican presidential hopeful hit by the London curse when the narrative of his trip—trade and building up his foreign policy credentials—was hijacked by a question about evolution on Wednesday. But by Thursday the debate had shifted to whether there are certain questions that simply shouldn't be asked of politicians.