Russia Expects Gazprom's Best Year Ever, If You Count in Rubles
Elena Mazneva and Andrey Biryukov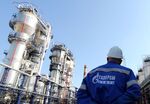 Here's an example of the strange things the ruble's collapse is doing to Russian businesses.
OAO Gazprom, the world's biggest natural gas exporter, may see dollar revenue in Europe sink to the lowest in a decade this year, according to government forecasts on price. In ruble terms, however, sales are likely to hit a record.
The contrast shows how the ruble's 46 percent slump against the dollar over the past 12 months is helping Russian export-focused energy companies to compensate for lower oil prices. Revenue from gas sales to Europe is priced in dollars and euros, while the majority of the company's costs, including wages, are in rubles.
The average price for Russia's gas deliveries outside the former Soviet Union is assumed to be $222 per 1,000 cubic meters this year, Deputy Economy Minister Alexey Vedev said by phone. That's almost 35 percent below Gazprom's price last year and the lowest since 2005. Still, the price in Russia's currency could be a record high -- more than 13,650 rubles - given the ministry's forecast on the exchange rate.
"Not only Gazprom, but also Russia's oil exporters could reach record high revenues in ruble terms this year as the nation's currency becomes wrapping paper," Ildar Davletshin, an oil and gas analyst at Renaissance Capital, said by phone from Moscow.
"Exporters could benefit from the devaluation in the next six to 12 months, but later domestic inflation would offset the gains as contractors would have to raise fees," he said.
Rosneft Revenue
Gazprom's total revenue may reach a record 5.5 trillion rubles this year, rising 5 percent from 2014, Davletshin said.
The nation's largest oil company, OAO Rosneft, may increase revenue 9 percent in local currency terms to 6.06 trillion rubles this year, said Alexander Kornilov, an oil and gas analyst at Alfa Bank in Moscow.
That shows how the collapse of the ruble has offset lower oil prices. In ruble terms, oil's hardly fallen at all. At Gazprom, oil prices matter because most of its gas-export contracts are linked to crude with a time lag of six to nine months.
The Economy Ministry based its forecasts on an average crude price of $50 a barrel after it slumped almost 50 percent since the middle of last year. Russia's currency may fall to an average 61.5 rubles against dollar this year from 38 in 2014, according to the forecast.
Gazprom, which also sells oil and power, gets about 30 percent of total revenue from supplying gas outside the former Soviet Union, a region that includes most of the European Union and Turkey.
The Moscow-based exporter would hold "stress tests" of its budget using an oil price as low as $40 a barrel and has the strength to weather the crisis, Gazprom chief financial officer Andrey Kruglov said last week. The exporter's press service declined to comment on the government forecasts.
Before it's here, it's on the Bloomberg Terminal.
LEARN MORE