The New View-Master Is a Google-Powered Virtual Reality Headset
This ain't the toy from your childhood
Belinda Lanks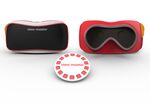 Enjoy the view? Now you can walk into it.
In a move set to delight kids and nostalgic adults alike, Google and Mattel have updated the iconic View-Master into a virtual-reality headset.
The next-generation View-Master uses the augmented-reality technology from Google's low-tech Cardboard device, which the Internet giant introduced last year. Users will be able to download the special View-Master app from Google Play and slot any smartphone (Android or iPhone) into the headset to start exploring.
Different tours will come on physical "experience reels" (resembling the original circular slides), which don't slot into the headset but can sit on a table, for example, in front of multiple viewers wanting to take the same tour. Technically, the device doesn't need the reels to function (tours can just be downloaded on the app), but Mattel says it decided to make them appeal to nostalgic collectors of the old-timey toys that date back the 1939 New York World's Fair.
A 360-degree tour of San Francisco, for instance, includes several possible destinations: Alcatraz, Fisherman's Wharf, and the Golden Gate Bridge. Viewers can select where to go by looking at information icons and using the physical plastic lever on the side of the headset to click. Mattel will be mining some of its old material in the new format, drawing from 75 years of archival images. 
The partnership is an attempt to answer a nagging question in the toy industry: How do you make existing products relevant as kids turn away from traditional toys and toward videogames for the iPhone and iPad? Mattel thinks it has cracked that nut. 
The advantage to Mattel is clear—it hopes to capture kids by offering them the next big thing. Google's Cardboard product director, Mike Jazayeri says that Google "wants to make virtual-reality accessible to everyone," and by hooking up with an established toy brand with recognizable characters, it can reach a broader, younger audience than through its Cardboard headset. 
One of the drawbacks VR headset makers have to overcome is the sickness-inducing factor. Some people complain of nausea and dizziness after trying devices such as Oculus Rift.  I'm admittedly prone to motion sickness, and after briefly touring the cells of Alcatraz on the new View-Master, I experienced some wooziness. But Doug Wadleigh, Mattel's senior vice president of Global GM Toy Box, asserts that the product is safe and was tested by pediatric opthalmologists. The key to tamping down any negative side effects, Wadleigh says, is to consume the content in "snackable, bite-size" moments.
For that reason, the View-Master, available this fall for $30, won't encourage long-time viewing with a head strap like Cardboard.