Banks' Ability to Delay Currency Trades May Not Be Fair
Greg Farrell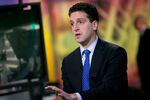 New York banking regulator Benjamin Lawsky said his agency's probe of electronic currency trading focuses in part on a practice known as "last look," a programming feature designed to let banks delay execution of orders to avoid getting burned on price swings.
"We're concerned, at least, that there may be some issues there in terms of manipulation," Lawsky, head of the New York Department of Financial Services, said Thursday in an interview on Bloomberg Television's "In the Loop with Betty Liu." He's trying to determine whether any banks abused last looks to ensure they profited at the expense of customers.
Last looks are a vestige of the era when computers began replacing people in executing currency trades. In those days, there was a lag between when an order was typed and when it executed, boosting the risk prices could shift and hurt the bank before the transaction was done. As that lag narrowed, banks retained the right to execute on a last-look basis.
Lawsky, whose office is among more than a dozen authorities investigating suspected currency rigging by the world's largest banks, ordered Barclays Plc and Deutsche Bank AG last year to hire monitors to examine their foreign-exchange operations. A person with knowledge of the probe told Bloomberg News in December that Lawsky's office had found evidence the pair may have used algorithms to manipulate currency rates. By that time, Barclays had its monitor in place, and Deutsche Bank was in the process of installing one.
Lawsky's office sent subpoenas later that month to other banks -- Goldman Sachs Group Inc., BNP Paribas SA, Credit Suisse Group AG and Societe Generale SA -- seeking records associated with their electronic trading platforms, a person briefed on the matter said earlier this week. The demands don't necessarily indicate the banks did something wrong, the person said.
Spokesmen for the banks declined to comment on Lawsky's remarks or didn't respond to messages seeking comment.
"There's a little bit of smoke," Lawsky said in the television interview. "We don't know if there's any fire."
Before it's here, it's on the Bloomberg Terminal.
LEARN MORE