Disaster Deal Shows What A Difference Four Years Make: Real M&A
Tara Lachapelle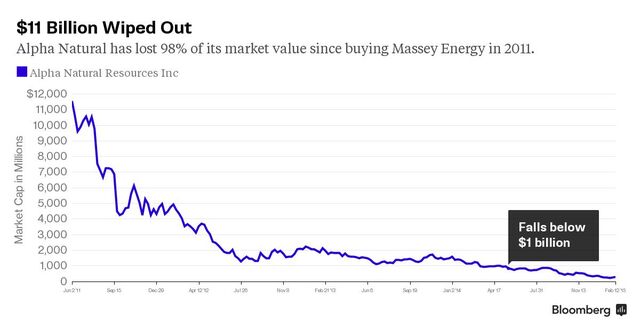 Four years ago, a large U.S. company announced it was undertaking what would be the most expensive takeover its industry had ever seen. It was neither a deep-pocketed tech giant, nor a growth-starved drugmaker. This was a coal producer -- and the merger was a sign of the times.
Alpha Natural Resources Inc.'s $8.5 billion purchase of Massey Energy Co. -- and the calamity that ensued -- shows how much the acquisition landscape has changed in just a few years' time. Back then, mining deals were on the rise. China and the developing world had what seemed like an insatiable appetite for resources and raw materials to build and power their infrastructure. Buyers were paying up, not anticipating a price collapse caused by an oversupplied market.
As one analyst put it, it was "a great time to be a seller." It didn't matter that Massey had just caused the deadliest U.S. coal mining accident since Richard Nixon was in office; Alpha Natural was touting how the merged entity would generate "the highest free cash flow" of any of its peers.
Fast forward to today: Alpha Natural has lost 98 percent of its value and trades for roughly $1 a share. The business burned through more cash than any other mining company in the past year, according to data compiled by Bloomberg. Some of its competitors have even had to seek bankruptcy protection.
A representative for Bristol, Virginia-based Alpha Natural declined to comment on the deal and aftermath.
Target Shift
There really haven't been any major coal deals since that year. The attention has turned to less cyclical industries such as technology, health care and cable TV, where revenue growth and synergies are behind much of the transaction rationale. Even activist shareholders seem to be targeting more predictable businesses such as online marketplace EBay Inc. and Zoetis Inc., the animal-health company, where returns are less likely to be wiped out by one bad week for commodities.
The danger of overpaying for deals hasn't prevented another takeover boom. Last year's $2.9 trillion of mergers and acquisitions was the highest since before the financial crisis. This year was expected to keep up the pace, and there are signs that takeover activity is heating up again. At the same time, bankers say volatility in the stocks, currencies and commodities markets is making it difficult for buyers and sellers to agree on transaction terms.
Pfizer Redux
One of the first major deals to get announced in 2015 was Pfizer Inc.'s $17 billion purchase of injectable-medicine maker Hospira Inc. While it's the pharmaceutical company's most expensive acquisition of size this decade based on the earnings multiple, Pfizer's expected by investors and analysts to seek another even larger merger this year.
That said, even Pfizer knows that deals -- especially big ones -- can later turn out to be perilous. About two-thirds of corporate takeovers that exceeded $20 billion between 1996 and 2012 generated losses for shareholders of the acquiring companies in the three years after the transactions were completed, according to a Bloomberg News study. And the 78 buyers lagged behind the MSCI World Index by a median of 13 percentage points.
The worst among them? Pfizer, which underperformed the MSCI by more than 90 percentage points after its $64 billion takeover of Pharmacia Corp., which closed in 2003.
Before it's here, it's on the Bloomberg Terminal.
LEARN MORE