Corporate-Bond Demand Plugs U.S. Financing Gap: Chart of the Day
David Wilson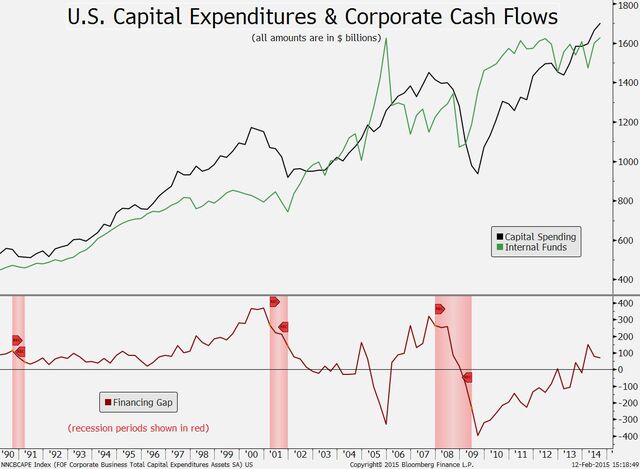 Demand for corporate bonds is poised to rebound at an ideal time for many U.S. companies, according to Pierre Lapointe, Pavilion Global Markets Ltd.'s head of global strategy and research.
As the CHART OF THE DAY shows, U.S. capital spending exceeded cash flows in the first three quarters of last year, according to data compiled by the Federal Reserve. The figures appear in the top panel. They exclude international earnings retained abroad.
The streak is the longest since the economy's current expansion started in June 2009. This led to financing gaps, displayed in the bottom panel, that totaled $295.8 billion.
"We expect an increased appetite for corporate bonds to give the space a second wind in months to come," Lapointe and a colleague, Alex Bellefleur, wrote in a report. The Montreal-based strategists focused on prospects for high-yield debt, whose gains in the past two months caused yields to fall relative to 30-year Treasury bonds.
The spread this week between the Barclays U.S. High Yield Index and the Treasury debt was 3.62 percentage points, about a point lower than last year's high, according to data compiled by Bloomberg. Before peaking on Dec. 16, the spread more than tripled from its June 23 low as tumbling oil prices spurred concern that energy companies' finances would worsen.
"The search for yield will keep demand high for higher-yielding corporate bonds," they wrote. Last month, the 30-year Treasury fell to a record low yield of 2.22 percent. Yesterday's yield was 2.58 percent.
Before it's here, it's on the Bloomberg Terminal.
LEARN MORE