Anthem Starts Providing ID Theft, Credit Monitoring After Hack
Zachary Tracer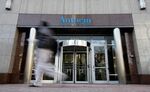 Anthem Inc.'s current and former health-insurance members can sign up for identity-theft and credit-monitoring services, measures to protect as many as 80 million people whose data may have been compromised in a hacking incident.
People won't have to await confirmation in the mail that their data was compromised to sign up for the services, which will be provided for 24 months, Anthem said Friday in a statement. The mail notifications should begin arriving in the coming weeks, Anthem said.
Closely held AllClear ID is handling the identity-theft services for Anthem, said Kristin Binns, a spokeswoman for the health insurer. Anthem is providing information about the services at AnthemFacts.com.