UN Envoy: Yemen's on the Brink of Collapse
Sangwon Yoon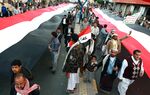 Yemen is on the brink of collapse and the international community must send a strong signal that further acts undermining a peacefully negotiated political transition won't be allowed to stand, the United Nations envoy to that nation said.
While "reasonable progress" has been made in the UN-brokered negotiations, continued instability may create conditions for a resurgence of al-Qaeda in the Arabian Peninsula, Jamal Benomar, the UN envoy on Yemen, told the Security Council on Thursday via videoconference from Yemen's capital Sana'a.
"If no political settlement is secured in coming days, there is a real possibility that the rial may collapse," Benomar said of threats to the Yemeni currency. "Serious concerns exist that the government may be unable to pay salaries in the next two to three months."
Unrest has grown after Shiite Houthi rebels took control of Sana'a. The takeover raises questions about the future of U.S.- Yemen counterterrorism cooperation against AQAP, which U.S. officials say is the foreign terrorist group posing the greatest threat to the American homeland. The U.S. has shut its embassy in Yemen amid the unrest.
Before it's here, it's on the Bloomberg Terminal.
LEARN MORE