deals
Valeant Secures Financing to Make a Bid for Salix
Ed Hammond
Valeant Secures Financing to Make a Bid for Salix
Ed Hammond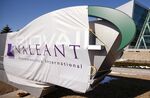 Valeant Pharmaceuticals International Inc. has arranged financing for a potential takeover of Salix Pharmaceuticals Ltd., people familiar with the matter said, as it nears a bid for the gastrointestinal drugmaker.
Valeant's likely to make an offer of more than $150 per share, one of the people said, asking not to be identified discussing private information. Including net debt, Salix is valued at about $10.9 billion. Its shares jumped 4 percent in New York to $149.18.
There is no certainty a deal will be reached between the two companies, and another person with knowledge of the matter cautioned that Valeant is wary of overpaying and could decide to explore alternative acquisitions. Other prospective buyers could still emerge for Salix, one person said.
A deal with Salix would mark a comeback for Valeant, which was thwarted last year in a long-running quest to buy Allergan Inc., the maker of Botox. Valeant has struck $19.2 billion of deals in the last five years, including the purchase of eye-care company Bausch & Lomb Inc. in 2013, to plug a wider range of offerings into its distribution network and help squeeze out costs.
Raleigh, North Carolina-based Salix makes drugs to treat ulcerative colitis and travelers' diarrhea and is nearing approval for a potential treatment of irritable bowel syndrome. After its shares reached a record closing high of $167.50 Thursday, it has a market value of about $55.8 billion.
A spokeswoman for Valeant declined to comment, as did a representative for Salix.
'Steady Flow'
Though large deals are difficult to predict, Valeant has its eye on more than 100 smaller acquisitions, Chief Executive Officer Mike Pearson said on a January conference call.
"Our business development activities will remain a priority for 2015, and we expect a steady flow of small- and medium-size deals to continue," he said.
Salix said last month it will restate its results for 2013 and most of 2014 after the board conducted an accounting review of how inventory of top drugs built up with wholesalers. The company can now put behind it the accounting problem that kept potential acquirers at bay last year, when it was on a handful of drugmakers' shopping lists including Actavis Plc and Allergan.
Shire Plc is also interested in Salix, people with knowledge of the matter said last week. While rare diseases remain a key area of focus for possible further acquisitions, the company is looking broadly at opportunities, Shire CEO Flemming Ornskov said on a conference call Thursdsay. He declined to comment on whether Shire might buy Salix.
Other large pharmaceutical companies that could be interested in Salix's gastrointestinal drugs are Takeda Pharmaceutical Co., AstraZeneca Plc, AbbVie Inc. and Endo International Plc, David Amsellem, a New York-based analyst for Piper Jaffray Cos., said in an interview last month.
(Updates with closing share prices.)