Ukraine Talks Resume as Rebels Said to Reject Peace Deal
Ilya Arkhipov and Daryna Krasnolutska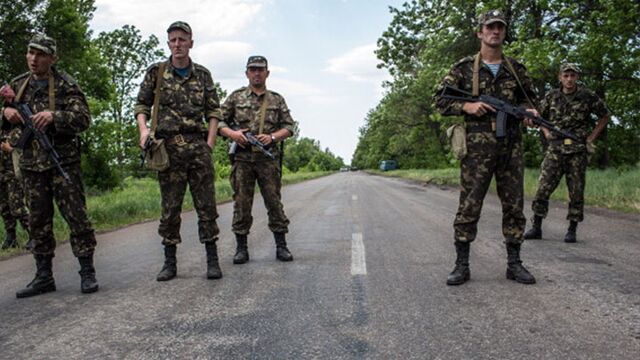 Leaders of Russia, Ukraine, Germany and France meeting in Belarus are trying to stop a draft peace plan for Ukraine from falling apart after a government official had earlier reported that an agreement had been struck.
The pro-Russian separatists rejected the accord, three officials present at the peace talks in Minsk said, asking not to be identified because the information is confidential. Russia presented "unacceptable' conditions, Ukrainian President Petro Poroshenko said, according to the AFP news service.
Discussions resumed Thursday between Poroshenko, Russian President Vladimir Putin, German Chancellor Angela Merkel and French President Francois Hollande after negotiations went through the night to produce the tentative agreement. Implementation of previous commitments in Minsk agreements signed in September formed part of the proposals, said a diplomat, who asked not to be identified. A cease-fire within 48 hours is also in the accord, the DPA news service reported.
The outcome of the summit could decide if a tenuous peace takes hold or a wider war breaks out, as the U.S. and some European allies could potentially supply arms to Ukraine in a conflict that has already killed at least 5,486 people and left 12,972 wounded, according to the United Nations. A breakdown of talks would strain trans-Atlantic unity in dealing with Russia, as Europe's consensus on economic sanctions shows signs of fraying.
A representative of the Organization for Security and Cooperation in Europe joined the leaders' discussions after a separate meeting with the Ukraine contact group, which comprises representatives of Ukraine, Russia, rebel groups and the OSCE. Proposals from the leaders' marathon talks were sent for agreement to the contact group, the diplomat said earlier.
International Monetary Fund Managing Director Christine Lagarde announced a preliminary agreement on a $40 billion bailout package for Ukraine to avert a default as the 10-month conflict drains its economy. An IMF team, which has been in the Ukrainian capital Kiev since Jan. 8, will recommend the Washington-based lender's board sign off on the four-year program, she told reporters Thursday in Brussels.
Ukraine's April 2023 Eurobond was little changed at 53.19 cents on the dollar, lowering the yield two basis points to 19 percent.
Before it's here, it's on the Bloomberg Terminal.
LEARN MORE