Ukraine Tries Bonuses to Rally the Troops
The country is still drafting its citizens, and some are running away
By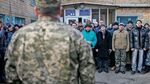 Even as Russian President Vladimir Putin, German Chancellor Angela Merkel, and U.S. President Barack Obama try to negotiate an end to the conflict in Ukraine, the government of President Petro Poroshenko is proceeding with its largest mobilization since the war with pro-Russian separatists began last March. At least 50,000 reservists are being called up to boost the army to 230,000 soldiers by the end of 2015, according to two military officials.
On Jan. 27, presidential adviser Yuriy Biryukov reported that the mobilization was stalled in five western regions. More than half of the draftees in the Ivano-Frankivsk region didn't show up when called earlier that month. Many fled abroad. As other Ukrainian officials do, Biryukov issued his statement on Facebook. He later removed the post, but it was widely reported by the press.
Putin has invited the draft dodgers to Russia. Russian TV channels have run interviews with people claiming to be runaway draftees: At least one has been labeled an impostor by independent journalists. Videos of Ukrainian POWs being mistreated by the rebels have run on social networks, demoralizing future conscripts and their parents. Posing in one, a rebel commander known as Givi forces prisoners to chew their uniform insignia. He brandishes a sword before a line of kneeling prisoners, a reference to the beheadings by Islamic State.
"We are a target of a propagandist special operation funded by Russian secret services," says David Arakhamiya, an adviser to the Ukrainian defense minister. He confirms the draft dodging but says Biryukov's statement reflects only the initial stage. Arakhamiya says the call-up is likely to improve as it continues through February.
An employee of a conscription center, who spoke on condition of anonymity because he's not allowed to talk to the press, says that disorganization, not Russian propaganda, is the main obstacle. The call-up system dates to Soviet times: Conscripts' names are not even computerized. "If someone's paper is buried deep in a drawer, this person is guaranteed not to be drafted," the source says. Up to half of call-up letters never reach the intended recipients. Arakhamiya says this description of the call-up system is "fairly accurate."
To counter rebel propaganda, the government has announced that soldiers will be paid 1,000 hryvnia ($40) for each day spent in the war zone. Until now, frontline troops were getting from 2,500 to 7,000 hryvnia per month. Bonuses of as much as 121,000 hryvnia will be paid for each destroyed target, such as a plane or a tank. Ukrainian officials will use drones to verify reports of battlefield exploits. Ironically, the incentive plan was inspired by Stalin's 1942 directive to motivate Soviet soldiers, says Arakhamiya. The consequences for lying about one's exploits during World War II were dire. "People were executed for cheating the system."
The army has managed to contain the conflict within a small part of the country. Says Balazs Jarabik, a Carnegie Endowment expert on Ukraine: "Those troops fighting seem to have better equipment, better coordination, and high morale. I guess the fierce Ukrainian resistance surprised the rebels after they started their winter offensive." He adds that corruption and political meddling still pose problems.
The call-up center source says conscripts now get modern, NATO-style uniforms and gear. "Training centers [for draftees] have changed immeasurably in terms of living conditions and the quality of instruction," says Yevgeny Stepanenko, an officer who heads a mobile hospital at the front. There are more drones and night-vision goggles. Aid from Canada, purchases from NATO members, and better domestic equipment are strengthening the war effort.
The army welcomes the possibility of receiving U.S. weapons, but guns and ammo aren't lacking, thanks to arms depots the Ukrainians inherited when the Soviet Union collapsed. "We have enough to fight for another couple of years," Arakhamiya says. Equipment to improve the precision of artillery strikes is in the highest demand. That means "more drones and real-time satellite data to identify targets and strike them before they move. The latter can change the course of the war in a day."
The bottom line: Only half of Ukrainian draft notices reach their intended recipients because of a system inherited from Soviet times.
Before it's here, it's on the Bloomberg Terminal.
LEARN MORE