Nasdaq Composite Hits Highest Since 2000 on Cisco Rally, Ukraine
Joseph Ciolli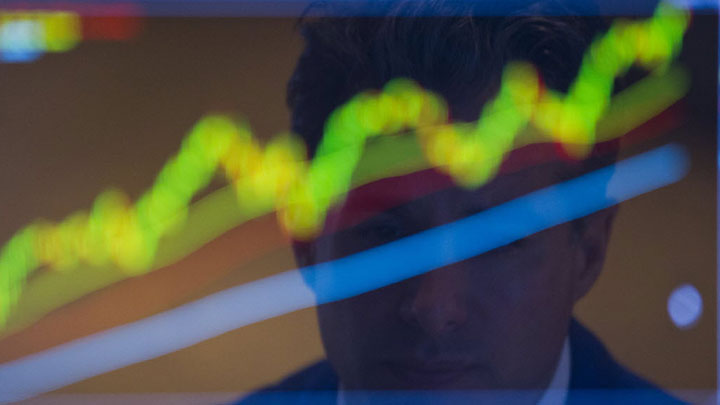 U.S. stocks rose, sending the Nasdaq Composite Index to the highest level in almost 15 years, as Cisco Systems Inc. and Expedia Inc. rallied and optimism grew over a cease-fire in Ukraine.
Cisco jumped 9.4 percent as profit and sales topped estimates. Expedia rose 15 percent after agreeing to acquire Orbitz Worldwide Inc. Online travel rival TripAdvisor Inc. soared 23 percent. American Express Co. slipped 6.4 percent as it plans to end co-brand and merchant agreements with Costco Wholesale Corp.
The Standard & Poor's 500 Index added 1 percent to 2,088.48 at 4 p.m. in New York. The index is less than 3 points from a record reached Dec. 29. The Nasdaq Composite jumped 1.2 percent to 4,857.61, the highest level since March 2000. The Nasdaq 100 Index surged 1.2 percent, also reaching a nearly 15-year high. About 7.2 billion shares changed hands on U.S. exchanges today, 4.8 percent above the three-month average.
"There's general optimism around the U.S. economy and a little bit of relief that some of the major international issues are not going to impinge just yet on positive trends here," John Carey, a Boston-based fund manager at Pioneer Investment Management, which oversees about $230 billion, said in a phone interview. "For the moment people seem to be somewhat more at ease about some of the trouble spots in the world. People are looking at the glass half full."
Record Highs
Equities are approaching record levels for the first time in 2015, bolstered by the biggest three-month rise in hiring in 17 years and signs of easing tension between Greece and its euro-area creditors. The S&P 500 has rallied 4.7 percent in February after sinking 3.1 percent in January for its worst month in a year.
The Nasdaq Composite closed below 4,000 twice last year, on Feb. 3 and April 11, but has rallied nearly 22 percent since then. The gauge is now 3.8 percent below its all-time closing high of 5,048.62, set on March 10, 2000.
The index has gotten a boost in 2015 from large technology stocks. Apple Inc. has increased 15 percent, Netflix Inc. has surged 34 percent and Amazon.com Inc. has risen 22 percent year-to-date. Apple climbed to a record of $126.46 high today, while Amazon is about 6.2 percent from an all-time high.
U.S. stocks have traded for the last two months in one of the tightest ranges since 2007, marked by a record high of 2,090.57 and Dec. 16 low of 1,972.74 for the S&P 500.
Dollar Increase
The strongest dollar in a decade and a plunge in oil prices that threaten investment and earnings growth have tested the resilience of investors as the bull market nears its seventh anniversary. Concern that European growth is slipping amid signs of deflation, coupled with a showdown that led to speculation Greece would exit from the region's shared currency also weighed on investor sentiment.
A peace summit between Ukrainian President Petro Poroshenko, Russian President Vladimir Putin and French and German leaders ended early Thursday with an accord on a cease-fire to stem the conflict that's devastated eastern Ukraine.
European Union leaders will take up the baton on Greece when they gather in Brussels on Thursday after finance ministers from the euro area concluded talks saying that compromise was possible on the country's future financing. The ministers failed to bridge their differences in six hours of discussions Wednesday and agreed to reconvene for another attempt on Monday.
'Upward Momentum'
"The Ukraine resolution is just one less thing to think about or be concerned about at this point," Richard Sichel, chief investment officer at Philadelphia Trust Co., which oversees $2 billion, said in a phone interview. "U.S.-based companies keep proving that they're the best place to be, and the market is continuing to have some really nice upward momentum this month."
With the S&P 500 trading at 17.5 times its members' projected earnings, a multiple 22 percent higher than the five-year average, investors are analyzing earnings reports and economic data to assess stocks valuations.
Equities pared early gains Thursday as data showed sales at U.S. retailers fell more than forecast in January, reflecting smaller receipts at gasoline stations and declines at clothing and sporting goods stores. A separate report showed applications for unemployment benefits climbed last week to a level that's consistent with progress in the U.S. labor market.
The S&P 500 has more than tripled from its bear-market low in March 2009, propelled higher by better-than-forecast corporate earnings and three rounds of Federal Reserve bond purchases. The Fed renewed its pledge in January to maintain record-low borrowing costs even as the economy shows signs of acceleration.
Earnings Reports
Almost three-quarters of index members have reported results so far, with 77 percent beating profit estimates and 57 percent topping sales projections, data compiled by Bloomberg show.
The Chicago Board Options Exchange Volatility Index fell 9.6 percent to 15.34. The gauge, know as the VIX, is down 11 percent for the week after losing more than 17 percent last week.
Eight of 10 major industries in the S&P 500 climbed today, with commodity, energy and technology companies jumping at least 1.3 percent.
Cisco Rallies
Cisco Systems rallied 9.4 percent to a seven-year high on better-than-forecast results as customers upgraded their networks and cost-cutting efforts are starting to show up in the bottom line.
Orbitz Worldwide soared 22 percent after Expedia agreed to acquire the company for $12 a share in cash. Expedia last month also agreed to acquire Sabre Corp.'s Travelocity in an effort to bulk up against Priceline Group Inc. and other competitors. Rival TripAdvisor surged 23 percent, its biggest jump ever, amid a recent spate of deal making in online travel.
Freeport-McMoRan Inc. rose 4.7 percent to help lead raw material stocks higher as copper prices climbed 2.4 percent.
Among S&P 500 energy companies, Marathon Oil Corp. and Valero Energy Corp. added more than 2.1 percent as oil prices increased 4.9 percent, halting a two-day slide amid production cuts and speculation that demand is strengthening.
Lenders rallied, with all 24 members of the KBW Bank Index advancing. The gauge closed at the highest level since Jan. 2., as Zions Bancorp. surged 3 percent to pace gains. JPMorgan Chase & Co. jumped 2.1 percent for the second-biggest rise in the Dow, while Citigroup Inc. and Bank of America Corp. added at least 0.7 percent.
AmEx Slides
American Express slipped 6.4 percent, its biggest drop in more than three years, as it plans to end co-brand and merchant agreements with Costco next year. The partnership accounts for about 10 percent of AmEx's total cards, according to the company.
Tesla Motors Inc. lost 4.7 percent, on pace for its worst decline since October, after the electric-car maker missed targets for vehicle deliveries and reported an unexpected loss.
Kellogg Co. fell 4.5 percent, the most in more than six months after cutting its long-term growth forecast, hurt by a decline in consumers eating cereal as part of their morning routine.