Toyota Union Plans Modest Wage Request
Craig Trudell and Masatsugu Horie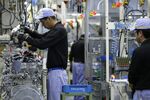 Workers at Toyota Motor Corp. will ask Japan's largest company to increase base wages by less than 2 percent, casting doubt on the ability of labor unions to secure pay gains needed to jumpstart the economy.
The Toyota Motor Workers' Union voted to propose a 6,000 yen ($50) increase in monthly base wages for the fiscal year beginning in April, Mitsuyuki Tsuruoka, the head of the union, said today in Toyota City, Japan. That's equal to a raise of about 1.7 percent for the union's 63,000 workers. The union is scheduled to make its formal request to Toyota next week, and Tsuruoka said the company will give its final answer on March 18.
The modest demands show why economists are pessimistic that Prime Minister Shinzo Abe can get Japan Inc. to boost wages by as much as the central bank is targeting prices to rise. Abe is counting on exporters led by Toyota -- which is making more profit than all other Japanese automakers combined -- to return the favor after his policies weakened the yen and boosted the value of earnings from overseas.
"Japanese car producers are sitting on a large scale of cash and the yen weakened sharply last year, so there are reasons for them to raise wages for their staff," said Betty Rui Wang, an economist at Standard Chartered Plc. Japanese companies may give raises of 1 to 2 percent in annual wage negotiations that take place around springtime, which won't be enough to support or boost inflation, she said by phone.
Toyota executives said the company was considering ways to help Japan escape deflation after raising its fiscal-year profit forecast to a record 2.13 trillion yen. The manufacturer may ease up on its practice of squeezing suppliers to lower prices of auto parts in hopes of giving smaller suppliers the resources to boost their workers' wages.
Earnings Forecast
Toyota has lifted its earnings forecast in each of the last two quarters. Its current projection for 2.13 trillion yen this fiscal year exceeds the combined 1.8 trillion yen that analysts estimate Japan's seven other carmakers will report, according to data compiled by Bloomberg.
"We understand we are at very important phase for the Japanese economy," Managing Officer Koki Konishi told reporters on Feb. 4. "We think it is important to have economic revitalization to penetrate second- and third-tier suppliers and for the whole Japanese economy to set a positive attitude."
Toyota's union plans to request bonuses equivalent to 6.8 months of salary and a 7,300 yen average pay increase for seniority or promotions, Yasuyuki Takagi, a union spokesman, said earlier. Both are unchanged from last year.
Rising Costs
While Japanese consumers saw their first base wage increase in eight years in 2014, those gains were outpaced by rising living costs and an increase in the sales tax in April. Average earnings climbed 0.8 percent, while pay adjusted for inflation fell 2.5 percent, the labor ministry said Feb. 4.
In negotiations across 43 union groups last year, companies agreed to increase base wages by an average of 1,950 yen a month, the Japanese Trade Union Confederation said in March. The nation's biggest union group, known as Rengo, said raises were the biggest since at least the turn of the century.
Those gains weren't enough to keep Japan from slipping into its fourth recession since 2008 last year, following the sales-tax increase. The Bank of Japan, led by Abe's hand-picked Governor Haruhiko Kuroda, has responded by expanding on unprecedented monetary stimulus that has driven down the value of the yen.
More Easing
Wage increases this year will probably exceed last year's raise, while still trailing the BOJ's 2 percent inflation target, Colin Asher, senior economist at Mizuho Bank Ltd., wrote in a Jan. 21 report.
Japan will struggle to meet the inflation target by the end of March 2016, said Wang, the Standard Chartered economist. The BOJ may need to extend its monetary easing at least an additional year and increase annual asset purchases to as much as 100 trillion yen, she said.
"These negotiations are a very important factor to keeping the inflation cycle going for Japan, a country with a lot of pessimism and long-term deflation," Wang said. "Wage growth will definitely help consumers to spend their money, but even 2 percent I don't think is enough."
Before it's here, it's on the Bloomberg Terminal.
LEARN MORE