The Dangers of Investing in Art
Even beautiful art can be a fickle asset
By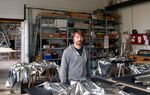 As elite guests walked into a new exhibition at the Bass Museum of Art in Miami Beach in December, they were greeted by a cluster of three abstract black-and-white paintings. Created by German artist Anselm Reyle, the monochrome works were nothing less than a middle finger to the art world. The show was assembled by Peter Marino, an architect known as much for his outré leather biker outfits as his luxe retail interiors for Chanel and other companies. Including the Reyle paintings in his show was a trademark act of defiance—an unsubtle reminder to art speculators that their whims often transform art into a terrible investment they'd prefer to forget. "People don't like artists whose price goes down," says gallery owner and collector Adam Lindemann, who owns a work by Reyle. "The art market died in 2009 for about a year, and there were some casualties. Reyle was a noteworthy one, and so the art market selected him as a pariah."
In the contemporary art world, where it's common for recently discovered artists to sell works for hundreds of thousands of dollars, there's a perception the market is unstoppable. The precipitous fall of Reyle is a reminder that important backers, high prices, and insider buzz have their limits, and even beautiful art can be a fundamentally fickle asset.
Just eight years ago, the market for Reyle's work looked invincible. Born in 1970, he became known for his signature "crinkle" pieces, in which colored foil is mounted on a painted canvas and then encased in glass. His first solo show in the U.S. was in 2004 at Gavin Brown's Enterprise, a Manhattan gallery known for introducing young artists to U.S. buyers. In 2007 he switched to the mega Gagosian Gallery, having gained such champions as billionaire François Pinault and tastemaker Charles Saatchi. "He was the artist everybody needed to have," says Thea Westreich, an adviser to powerful collectors.
In 2006 just one of Reyle's works appeared at auction, selling for $58,000, about 10 percent below its high estimate. A year later, 17 of them came to the gavel. One, a 4-foot, 7-inch purple crinkle work, had a pre-auction high estimate of $35,000—then sold in front of a stunned audience for $192,000.
Subsequent sales that year were even frothier: $489,000 for an oil, PVC foil, and Perspex work on canvas that had been estimated to sell for as much as $143,000; $634,000 for another piece that had a high estimate of $51,000. In one year, Reyle's record at auction had increased by more than 1,000 percent.

Then the global financial crisis struck, causing even the richest collectors to pull back. Reyle's status began to wobble—in 2008, a third of his work sold below its estimate or not at all—before collapsing entirely. His unpopularity became a negative feedback loop, and the next year turned into a "wipeout" for Reyle, says gallery owner Lindemann. No one wanted to be seen overpaying for a declining asset, and by 2012 more than half of the German artist's 39 pieces at auction went unsold. At the most recent sale of his artwork, in December 2014 at Phillips in London, an untitled 2006 purple crinkle work sold for about $66,000—$30,000 less than the same piece fetched four years ago.
Marino and Lindemann blame Reyle's decline on overproduction and fickle speculators. Westreich has a harsher take. "Let's get to the real issue: Sooner or later, the art world comes to its senses," she says. "Some artists look interesting for a period, maybe it's a month or maybe it's a year, but what happens is that things sort themselves out."
Reyle's arc is far from an isolated incident. Countless collectors and speculators have sunk money into young, in-demand artists only to watch their investment disappear in a matter of months. Colorful, semi-abstract paintings by Barnaby Furnas, 42, a former graffiti artist, first hit the secondary market in 2005. (Secondary sales are between private parties, after the primary sale of a work by its creator.) Divided Sight #2, a watercolor on paper, sold for $10,200. A year later, Furnas's Heartbreak Ridge went for $520,000. By 2014 the boom was over: Of 13 Furnas paintings that went to auction, only three sold.

The artist Tom Friedman, born in 1965, has had a similar trajectory. From 1998 to 2004, all but one of his works at auction sold within or above its estimate. His biggest sale came in 2006—$856,000 for a grotesque corpse made of construction paper in a pool of red—and his work was exhibited widely, from the Palais de Tokyo in Paris to the Palazzo Grassi in Venice. But neither critical nor institutional support was enough to sustain Friedman through the tumult of 2008. Last year, among 10 works by Friedman at auction, four failed to find a bidder.
Artists themselves usually have little to do with the price swings. And while they reap little benefit from their soaring secondary markets—collecting nothing when their work sells at auction—they can be hurt when those sales crumble. As their stars fade and collectors, even the nonspeculative ones, drift toward more fashionable subjects, it can be devastating. In February 2014, Reyle announced his retirement. His studio costs, which during the boom he estimated to be as much as $900,000 a month, were too high to justify continuing, he told the German magazine Die Welt. "The whole situation was surreal," he said. "Not necessarily pleasantly surreal, either." Reyle didn't respond to a request for comment.
Since the financial crisis, "there's even more speculative buying and more gamblers than ever," Lindemann says. "But they're not going to want to buy the artists that busted. They're going to want to buy the deals today. They want to move on."
Marino still owns 14 Reyles, which he calls beautiful. "The art market is, unfortunately, closely allied with the fashion market," he says. "Just like handbags are in style, and then two years later they're not, an artist's in, then he's out. But I don't follow that. Now that I'm 65, I go, 'Who cares?' "
The bottom line: A work by the once-hot artist Anselm Reyle sold last year for about $66,000, $30,000 less than it fetched four years ago.
Before it's here, it's on the Bloomberg Terminal.
LEARN MORE