The Big Business of Little Hockey Stars
Bryan Gruley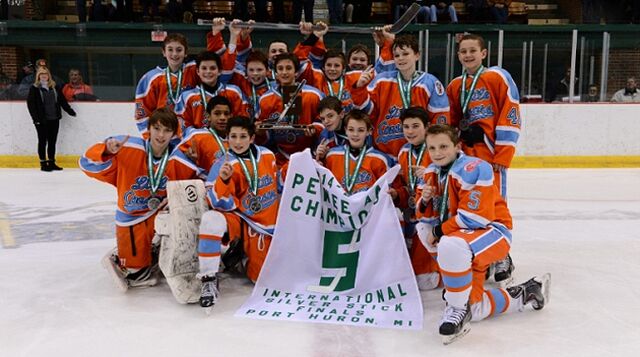 HoneyBaked Ham Co. sells glazed, spiral-cut hams at 425 shops nationwide. Little Caesars is one of the world's largest pizza chains. Compuware Corp. is a business software firm with thousands of customers.
Together they've produced more than 50 players for the National Hockey League.
Only in ice hockey -- and almost exclusively in Detroit -- do large companies lend their brands and hundreds of thousands of dollars to individual teams that shape grade-schoolers into college and big-league prospects.
Some youth soccer teams wear sponsors' logos, and companies such as Nike Inc. and McDonald's Corp. subsidize soccer, lacrosse, and basketball camps and tournaments. But those arrangements are a far cry from the Motor City's year-round, vertically integrated hockey machine.
Along with retailer Belle Tire Inc. and auto dealer Victory Honda, Little Caesars, Compuware and HoneyBaked are known in the hockey world less for what they sell than how teams wearing their colors rank among the best in North America.
Frank Provenzano, former assistant general manager for two NHL teams, skated against some of Detroit's corporate squads when he was growing up in Canada. "I didn't even know what Compuware was," he says. "I still don't. I just know they put out great hockey teams."
Hockey Mecca
Players come from across the U.S. and even Europe to compete for the Detroit teams in elite AAA leagues for girls and boys age 11 to 19. A Florida real-estate mogul married to supermodel Elle Macpherson flies his 11-year-old son to Detroit to play for a Belle Tire team ranked No. 1 in the country.
Compuware player Blade Jenkins, a 14-year-old eighth grader, recently committed to play for the University of Michigan. The NHL "is definitely the long-term goal," he says.
Detroit hardly has a monopoly on hockey madness. High-school hockey reigns supreme in Minnesota, the nation's top producer of NHL and NCAA talent. Prep schools and Catholic high schools claim many of the elite skaters in New York and New England. Private clubs dominate in emerging hockey hubs such as Chicago, Pittsburgh and Dallas.
Even with its image as an urban basket case, Detroit has a lot going for it on the ice. Young hockey players are drawn by the city's proximity to Canadian competition, the chance to be scouted by the NHL feeder Ontario Hockey League, and Detroit's reputation as "Hockeytown," home to the NHL's perennially strong Red Wings.
Deep Pockets
The state of youth hockey in Detroit and elsewhere underscores how sophisticated the business of developing teenage athletes has become, and how parents have become ever more eager to see their kids get a chance at college or professional stardom. These boys and girls aren't yet pros, though sometimes they seem close.
Coaches routinely jump from team to team. So do players and, occasionally, wealthy "sugar daddy" parents who write checks for anything from chartered buses to coaching budgets.
"It's unrestricted free agency every year," says Darren Eliot, director of minor hockey for Little Caesars and a former NHL goaltender.
In addition to paying for ice time, cross-country tournament travel and $200 hockey sticks, moms and dads shell out hundreds of dollars for development camps, skating coaches, goalie coaches, off-ice physical trainers and nutritionists. Corporate sponsors chip in to defray parental bills that can exceed $15,000 a season for a single player.
NHL Springboard
John Kay, Belle Tire's longtime director of hockey, said the regional tire store chain has an annual budget of up to $500,000 for its 25 AAA and AA teams, covering jerseys, pants, gloves, some ice time, and salaries that average $5,000 for AAA coaches.
Belle Tire executive Don Barnes Jr. started sponsoring teams 16 years ago "because he just had a passion for hockey," Rob Smith, the team's assistant hockey director, says from his cinder-block-walled office at Belle Tire's home rink south of Detroit. Down the hall, a sporting goods store sells red-and-white T-shirts, polos and hoodies emblazoned with Belle Tire's script logo.
Smith, 54, a retired cop, brandishes a fat ring signifying Belle Tire's 2007 AAA national championship for 15- and 16-year-olds. "Nineteen of those 20 kids are still playing" in college, minor leagues or the NHL, he said, including Boston Bruins defenseman Torey Krug.
Lou Schmidt Jr., president of HoneyBaked Ham's Michigan unit, started a single team in 1994 for his young son. He began adding teams in other age groups and, by 2000, HoneyBaked was spending $125,000 a year and vying for state and national titles.
'Brand Equity'
Eleven years ago, Schmidt, 55, decided to step back and turned the hockey program over to Suburban Sports Group, a Farmington Hills, Michigan, company that manages rinks and hockey schools. HoneyBaked no longer contributes money but lets teams use its name on their gold-and-black jerseys stitched with pink, hockey-stick-wielding pigs.
The name "has some brand equity" in the hockey world, Schmidt says. Has it helped him sell hams? "Probably not," he says. "For every 20 kids you put on the team, there's 40 you cut and they're pissed."
Chicago's Mission Hockey is the rare program outside Michigan to adopt the corporate model. Two years ago, the AAA club accepted sponsorship from Coyote Logistics LLC. Mission changed its logo to Coyote's neon green and added "Powered by Coyote" to its name.
Catching Up
While declining to say how much Coyote has invested in Mission's 11 girls and boys teams, Mission President Andrea Hahn says the contributions helped the program add athletic trainers and video technology. The Detroit teams "have a 20- to 25-year head start, but we've caught up quickly," says Gino Cavallini, the Mission hockey director who played 10 seasons in the NHL.
Company-sponsored hockey in Detroit dates back 50 years to when teams for Little Caesars, Slasor Heating and Paddock Pools dominated. Many vanished while Little Caesars founder Mike Ilitch bought the NHL Red Wings and poured more dollars into youth hockey. Caesars alumni include Mike Modano, the retired NHL star who holds the career record for combined goals and assists by a U.S.-born player.
Little Caesars' biggest on-ice rival emerged in the late 1970s when Compuware co-founder and hockey fan Peter Karmanos Jr. started sponsoring teams, one of which skated at Joe Louis Arena, home to Ilitch's Red Wings.
Compuware Ties
After Karmanos bought the NHL's Hartford Whalers in 1994, Ilitch evicted Karmanos' youth team from Joe Louis. Karmanos responded by building a $25 million arena in a Detroit suburb.
Karmanos, the majority owner of the NHL's Carolina Hurricanes, and Compuware have parted ways. Through a spokeswoman at his new company, MadDog Technology LLC, Karmanos said that he will continue to contribute money to youth hockey.
The sour tang of sweat and leather hangs in the air as John Trouba sits in a Compuware dressing room telling of his son's journey to Winnipeg in the NHL. Jacob Trouba, now 20, had played for Little Caesars before switching to Compuware.
"It was just the best opportunity to play with some better kids," says the elder Trouba, partner in a marketing firm that's developing a mobile app around his son.
Even with Compuware's sponsorship, Trouba said he spent about $7,500 a season, more when Jacob traveled to Sweden and Russia. Trouba says the best teams often have a "money guy," a rich parent who'll toss cash on top of the sponsor's contribution -- sometimes with strings attached, such as how much ice time the donor's son or daughter gets.
Rich Sponsors
"You love the philanthropy," says Little Caesars' Eliot. "But if it comes with conditions, I'd rather they put the checkbook away."
Florida real estate magnate and hockey fanatic Jeffrey Soffer was so eager to have his 11-year-old play in Detroit that last year he reached out to Mike Hamilton, then a highly regarded coach for HoneyBaked. Soffer is chairman and chief executive officer of Turnberry Associates LLC, a multibillion-dollar real estate firm that owns the Fontainebleau Miami Beach resort. He is also the husband of model and businesswoman Macpherson.
His son Logan played wing last season for the Snow Kings in Aspen, Colorado. Dad Soffer approached Hamilton about bringing Logan and a few of his teammates to play for the coach in Detroit. Hamilton says he couldn't work out an arrangement with HoneyBaked so he migrated to Belle Tire, where director Kay says, "I've been trying to get Mike over here for years."
Florida Fundraiser
Hamilton, in an interview, said he wasn't sure how much if any money Soffer has put into the team, though it wasn't the six-figure sums rumored in Detroit hockey circles. "Our team's no different than anyone else," Hamilton said. "It's a nice thing to know people who have money."
Soffer raised more than $50,000 for the team in a golf outing last summer at a Turnberry property in Aventura, Florida, Hamilton said. Last month, Soffer hosted the Belle Tire squad and rivals from Chicago, New Jersey and Connecticut for a private tournament in Florida. "He had a party Saturday night that was out of this world," Kay says.
Macpherson mentioned the team on the Jan. 28 Jimmy Kimmel show, saying, "I'm like a hockey mom, believe it or not."
But Hamilton won't be her stepson's coach much longer. Last week, he and Soffer agreed the coach would finish this season and then step down. "We just differed on how things should be going forward," Hamilton said. "No hard feelings. Everyone has one way they want to do things."
Soffer didn't return calls seeking comment. As of Feb. 11, the Belle Tire team under Hamilton was ranked first in the U.S. in the Peewee Minor age group, with a record of 52 wins and 6 losses.
Before it's here, it's on the Bloomberg Terminal.
LEARN MORE