Abe Wants Wealthy to Pay Exit Tax Before Leaving
Hitting the wealthy when they leave
by and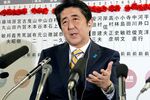 Japanese Prime Minister Shinzo Abe is cutting corporate taxes, delayed a sales-levy increase and plans a tax-free investment program for children, all in an effort to spur economic growth.
He draws the line at wealthy people leaving the country and paying no tax at all. 
The ruling Liberal Democratic Party intends to introduce a bill in parliament this month that requires people with more than 100 million yen ($840,000) in financial assets to pay tax on unrealized capital gains before moving overseas. Japan, with the heaviest debt burden among major economies, is catching up with countries including Canada and France with a levy. 

Abe has little choice but to increases taxes on the rich, and it won't do him any harm among ordinary wage earners who are asking what Abenomics has done for them, says Kazuhiro Yoshii, who leads tax research at Daiwa Institute of Research in Tokyo. 
While the number of people emigrating to more attractive tax jurisdictions remains relatively small, it is increasing. More than 17,000 Japanese lived in Singapore, Hong Kong, New Zealand and Switzerland in 2013, from 6,722 in 1996, according to the foreign ministry, which notes there is limited or no capital gains taxes in these places.
As many as 1 million households in Japan held net financial assets worth more than 100 million yen in 2013, according to a survey by Nomura Research Institute. 
About 100 to 200 people with this much wealth permanently move out of the country each year, says Shigeki Morinobu, a professor at Chuo Law School in Tokyo and a former tax agency official.

The exit tax on unrealized capital gains is planned at 20 percent for stocks and bonds and will take effect from July, if approved by parliament, where Abe's party and its coalition partner hold a majority.
The National Tax Agency -- which uncovered 31 billion yen of unreported income through an investigation of 4,177 wealthy people for the 12 months through June 2014 -- also plans to join other Organization for Economic Co-operation and Development members in exchanging banking, interest and dividend information on non-residents.

"The government is keen to prevent cross-border tax avoidance,'' says Takero Doi, an economics professor at Keio University who is also a member of a government tax panel. "It's not about stopping people from leaving Japan -- it just doesn't want people moving out just to avoid tax.''
Before it's here, it's on the Bloomberg Terminal.
LEARN MORE