Riksbank Can Deliver 'a Lot More' QE If Needed, Ingves Says
Niklas Magnusson and Johan Carlstrom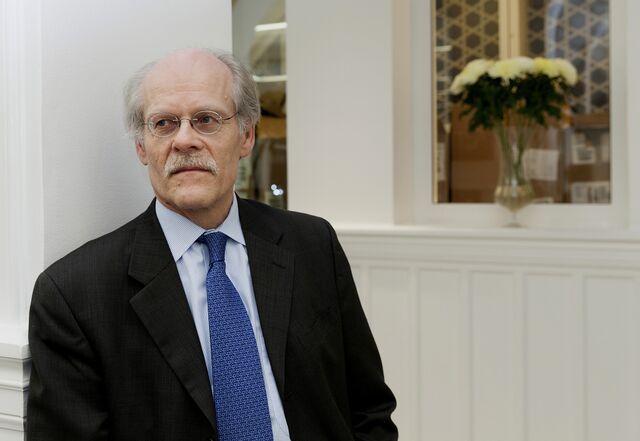 Stefan Ingves, the governor of Sweden's central bank, said he's ready to expand the bond-purchase program unveiled yesterday by "a lot" should it prove necessary.
The Riksbank is preparing to buy 10 billion kronor ($1.2 billion) in government bonds as long as five years as it steps up its battle against deflation. The bank's experiment with quantitative easing was announced together with a a repo rate cut to minus 0.1 percent as Sweden joins the list of central banks delving below zero to revive their economies.
The 10 billion kronor in planned purchases is "a small amount if you consider the amount of bonds out there," Ingves said in an interview with Bloomberg Television's Jonathan Ferro. "We are willing to do more, and we are also ready to do a lot more, if we have to do that to get the inflation rate up."
The comments mark an about-face for Ingves, who has been harangued by a growing chorus of critics for the Riksbank's failure to respond to disinflation with rate cuts earlier in the economic cycle. Nobel Laureate Paul Krugman even dubbed Ingves's policies "sadomonetarist" after the Riksbank governor started raising rates at the height of the European debt crisis in 2010 and 2011.
Now, Ingves says "inflation has been too low for too long" after five consecutive months of annual price declines. Headline inflation was last above the bank's 2 percent target in November 2011.
'More Serious'
"We need to get inflation up," Ingves said. "We need to ensure that we can engineer a turnaround when it comes to the inflation expectations because otherwise we would end up with a more serious" situation "down the road."
The bank sees headline inflation averaging 0.1 percent this year. Underlying prices, which adjust for the effect of mortgage costs, will grow at an average pace of 0.9 percent in 2015, according to the bank. Yesterday's announcement from the bank drove the krona down as much as 2.1 percent against the euro after most economists surveyed by Bloomberg hadn't anticipated a rate cut.
The Riksbank said yesterday it's also ready to deliver policy measures between scheduled meetings to ensure it lives up to its inflation mandate.
'Unusual Environment'
"It's fairly unusual, but one needs to be mindful of the fact that presently we are in a very, very unusual environment," Ingves said.
The Riksbank is also willing to buy government bonds with maturities longer than five years, he said. The debt office said today the central bank's announcement won't affect its issuance strategy. The Riksbank is unlikely to purchase mortgage-backed securities, given the risk of overheating in Sweden's housing market.
"I would find it very hard" to start buying mortgage-backed securities, Ingves said. "I don't think that that is in the cards." Doing so would be "a bit far-fetched given our view on what's happening on the mortgage market."
Swedish household debt has almost doubled since the mid-1990s following a surge in house prices. Ingves has in the past defended his reluctance to cut rates by referring to risks in the property market.
Yet the current extraordinary economic circumstances mean the Riksbank can't afford to rule anything out, Ingves said. That includes direct interventions in the currency market to weaken the krona and drive inflation higher.
Preparing More?
"We have said many times that that would not be our first choice," Ingves said. "But one should never say never."
Riksbank First Deputy Governor Kerstin af Jochnick said on Friday that if further action is needed to get inflation to rise toward the 2 percent target, the central bank can cut the repo rate again, extend purchases of government bonds and lend to companies via banks.
"All of this can be done rapidly on a large scale," af Jochnick said in presentation slides published on the Riksbank's website in conjunction with a speech at Morgan Stanley in London. "If more is required, we will do more."
Before it's here, it's on the Bloomberg Terminal.
LEARN MORE