Another Disappointing Retail Sales Report
Shobhana Chandra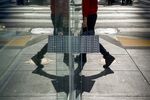 Americans eased up on purchases at retailers from department stores to clothing outlets in January, making for a disappointing start to the year after the strongest quarter of consumer spending since 2006.
Retail sales fell 0.8 percent, mainly reflecting a slump in service station receipts as gasoline prices dropped, Commerce Department data showed Thursday in Washington. Purchases fell twice as much as the Bloomberg survey median forecast, and followed a 0.9 percent retreat in December. Sales excluding gasoline were little changed.
The figures, which also showed weaker results at furniture chains and auto dealers, indicate Americans aren't rushing out to spend the windfall from cheaper fuel. Faster job growth that generates bigger paychecks will probably ensure brighter days are in store for the nation's retailers.
"Consumers are basically seeing all these positives but they're being a little more prudent about how they spend," said Michael Feroli, chief U.S. economist at JPMorgan Chase & Co. in New York. "We're not too concerned. Consumer spending is fine, it's just not doing all that well given the very favorable fundamentals."
Stocks rose on optimism over a cease-fire agreement for Ukraine. The Standard & Poor's 500 Index gained 1 percent to 2,088.48 at the close in New York.
While another report showed jobless claims jumped by 25,000 to 304,000 last week, applications over the last four periods, a less-volatile measure, dropped to the lowest level since mid-November. The monthly average declined by 3,000 to 289,750 in the period ended Feb. 7, according to the Labor Department.
Jobless Claims
"History tells us to wait until after the Presidents Day holiday to pay much attention to the weekly swings in initial claims," Stephen Stanley, chief economist at Amherst Pierpont Securities LLC in Stamford, Connecticut, wrote in a note to clients. "It makes very little difference whether claims settle out at 300,000 or 285,000 or even 310,000. All of the above would be consistent with quite strong labor conditions."
Job gains helped boost retail sales in October and November, before shoppers took a breather in the following two months.
Prices at the pump have experienced a decline that continued through January. Regular gasoline reached $2.03 a gallon on Jan. 25, the cheapest since March 2009, according to AAA, the biggest U.S. motoring group.
Filling-station receipts slumped 9.3 percent, the most since December 2008, the Commerce Department data showed. The sales data aren't adjusted for prices.
Not 'Troubling'
"While consumers are getting more money in their pockets from less money on gasoline, they're not rushing to spend it elsewhere," said David Sloan, senior economist at 4Cast Inc. in New York, who correctly projected the drop in sales. "I don't think it's too troubling. It will take a little bit of time for the consumer to respond to the extra income they're getting."
Estimates in the Bloomberg survey of 88 economists for total retail sales ranged from a decline of 1.6 percent to an advance of 0.3 percent. Six of 13 major categories showed declines in January, the report showed.
Sales dropped 0.5 percent at automobile dealers after a 0.8 percent decrease the prior month.
Auto Industry
Industry sales of cars and light trucks cooled to a 16.6 million annualized rate in January after 16.8 million the prior month, according to data from Ward's Automotive Group.
Carmakers project demand will be sustained. The U.S. has "favorable economic fundamentals" that "should support continued job growth in a good environment for vehicle buying," Emily Kolinski Morris, chief economist of Dearborn, Michigan-based Ford Motor Co., said on a Feb. 3 sales call.
Sales excluding automobiles and service stations increased 0.2 percent, less than the projected gain of 0.4 percent in the Bloomberg survey.
The figures used to calculate gross domestic product, which exclude categories such as food services, auto dealers, home-improvement stores and service stations, showed a 0.1 percent gain after dropping 0.3 percent in the previous month.
Americans were cautious about spending elsewhere. Sales decreased 0.8 percent at clothing chains after a 1.2 percent slump a month earlier. Purchases declined 2.6 percent at sporting goods outlets, 0.7 percent at furniture stores and 0.7 percent at department stores.
Sales rose at Internet retailers, building material outlets and electronics stores.
Furniture Sales
Pier 1 Imports Inc., the operator of more than 1,000 home-decor stores in North America, on Tuesday cut its forecast for profit in its current fiscal year that ends this month, citing higher expenses and weaker revenue.
A weaker January "is also causing us to take a more cautious view of sales for February," Pier 1's Chief Executive Officer Alex Smith said in a statement.
Household spending jumped an annualized 4.3 percent in the fourth quarter, the most since the first three months of 2006, after a 3.2 percent pace from July through September. Consumption is projected to grow at a 3 percent annualized rate this quarter, according to the median estimate of 81 economists in a Bloomberg survey conducted from Jan. 9 to Jan. 14.