Putin Bolstered as Ukraine Accord Averts Escalation Threat
Henry Meyer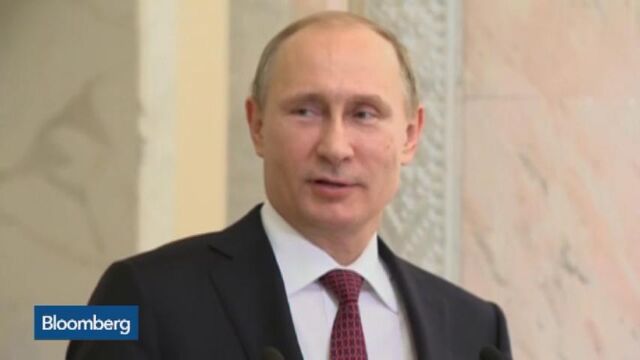 The peace agreement in the Ukrainian conflict may be tailor-made to satisfy Russian President Vladimir Putin: it keeps the authorities in Kiev under his thumb while avoiding an escalation of the confrontation that would tip his country's economy deeper into crisis.
Putin and the leaders of France, Germany and Ukraine on Thursday unveiled an agreement in Minsk, Belarus, that foresees a cease-fire on Feb. 15 and other steps including a buffer zone and more powers for parts of the disputed Donbas region. Even if the accord succeeds in ending 10 months of fighting, analysts from Moscow to Berlin say the struggle over Ukraine's strategic direction looks far from over.
"Russia will not leave Ukraine alone as that would run counter to Putin's main goals when he started this crisis," Masha Lipman, a Moscow-based political analyst and visiting fellow at the European Council on Foreign Relations, said by phone. "This agreement does not get in the way of Russian policy aimed at disrupting Ukraine's development."
The deal happened after a year in which Putin has been locked in the most serious confrontation with the U.S. and Europe since the Cold War over his annexation of Ukraine's Crimea peninsula in March and support for pro-Russian rebels fighting government forces in eastern Ukraine. The U.S. and the European Union responded by imposing sanctions that have helped push Russia's economy toward recession.
'No Illusions'
While German Chancellor Angela Merkel said she had "no illusions" about the difficulties of implementing the deal, the diplomatic breakthrough offers Putin some breathing space. EU leaders warned at their meeting Thursday in Brussels that new punitive measures may be imposed against Russia if the agreement unravels, and the U.S. has been examining the possibility of supplying weapons to Ukraine.
Russia's economy needs that reprieve after being battered by the sanctions and the collapse of oil prices. The ruble has lost almost half of its value since June and gross domestic product is forecast to contract 4 percent this year, according to a Bloomberg survey. The 28-member EU's restrictions have targeted Russia's energy and financial industries.
"This plays into the hands of those who oppose both sanctions against Russia and arms shipments to Ukraine," Marcin Zaborowski, director of the Polish Institute of International Affairs in Warsaw, said by phone. "If somehow the cease-fire holds for a couple of months, it will be very difficult to regain momentum."
Border Control
Putin, who seemed in good spirits despite the all-night talks as he stepped out first to announce the accord, said the negotiations had managed to agree on the "main things."
The document signed by the rebels and the Ukrainian government representatives bore a resemblance to demands made the day before by Russian Foreign Minister Sergei Lavrov.
Control of the Ukrainian border with Russia in separatist-held areas in the east, through which weapons and troops have flowed according to the U.S., Europe and Ukraine, won't be handed to the authorities in Kiev until the end of the year under the agreement. The transfer will depend on Ukraine changing its constitution to offer special status to the east.
Ukrainian President Petro Poroshenko pledged to decentralize some powers, though he rejected autonomy for the breakaway Donetsk and Luhansk regions and refused to switch to a federal system of governance.
Black Hole
This means that Russia will likely keep control of the border and that the east of Ukraine will remain outside of central government control, according to Dmitri Trenin, director of the Carnegie Moscow Center.
Ukraine, which reached a preliminary accord to expand an International Monetary Fund-led bailout to avert default, will remain an economic black hole as long as it's in dispute with Russia, according to Lipman. The hryvnia has weakened 67 percent against the dollar in the past year, the world's worst performer, and the Ukrainian central bank forecasts the economy will shrink as much as 5 percent this year after a 6.7 percent decline in 2014.
"The goals of the Russian side are to ensure that the conflict remains frozen and to prevent Ukraine from consolidating its gains and from making any kind of economic recovery," Emmet Tuohy, an analyst with the International Centre for Defence and Security in Tallinn, Estonia, said by phone.
Armed Groups
The agreement that calls for the disarmament of "illegal" armed groups may be hard to implement. Russia will argue that if the rebels hand over their weapons, so too should Ukrainian pro-government militias, said Fyodor Lukyanov, head of the Moscow-based Council on Foreign and Defense Policy.
It also says a "people's police" may be set up in Luhansk and Donetsk, which would legitimize the rebels, Lukyanov said by phone. "In effect it keeps in place the current situation."
A senior Russian lawmaker, Alexei Pushkov, said the peace deal was a defeat for the forces in Ukraine and its allies who seek victory over the pro-Russian separatists.
"All those who wanted a continuation of the war and who still want that and will try to sabotage this cease-fire, and there are such forces in Kiev and across the Atlantic, they will lose if this agreement is put into effect," Pushkov, chairman of the foreign affairs committee of the lower house of parliament, said in an interview with Rossiya 24 television.
'Huge Cost'
Ukraine's ambitions to join the North Atlantic Treaty Organization, which Russia cited as a reason for its annexation of Crimea last year, now seem on ice indefinitely, said Joerg Forbrig, a senior program director at the German Marshall Fund in Berlin. "The NATO question for Ukraine will have to be put to rest for a long time," he said.
Russia may also pay a high price for its standoff over Ukraine, Forbrig said. "It's a lose-lose situation. Putin has thrown a wrench into Ukraine's sovereignty but at a huge cost to Russia's economy," he said.
There are some prospects for peace, as Russia seems to realize the conflict is not the best way to achieve its objectives, said Arkady Moshes, the head of the EU's Eastern Neighborhood and Russia research program at the Finnish Institute of International Affairs.
"I'm not expressing optimism, but very cautious hope because I believe by now Moscow was fully aware that the continuation would not necessarily give it much diplomatic or political gains," Moshes said by phone from Helsinki.
Lithuanian President Dalia Grybauskaite, who warned at the Munich Security Conference last week that her Baltic country would be next after Ukraine, expressed pessimism about the outcome.
"Control of the borders was not agreed, and was not solved. That means that the border is open for any military entrance, any military equipment entrance," Grybauskaite told reporters in Brussels before the meeting of EU leaders. "That means their solution is absolutely weak."
Even if the cease-fire collapses, the Russian leader won't back down, said Lipman. Putin isn't interested in escalation, she said, though "if the conflict erupts again, he can live with it too. It's a much harder burden for Ukraine than for Russia."
Before it's here, it's on the Bloomberg Terminal.
LEARN MORE