Pernod Maintains Full-Year Forecast After Earnings Stagnate
Matthew Boyle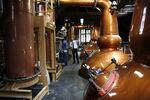 Pernod Ricard SA, the European distiller whose family scion Alexandre Ricard took the helm yesterday, maintained its full-year earnings forecast after operating profit stagnated in the first half, held back by a later Chinese New Year festival.
Sales excluding acquisitions, disposals and currency fluctuations rose 1 percent in the six months through December, compared with a 0.4 percent increase estimated by analysts. Operating profit excluding some items was little changed at 1.36 billion euros ($1.5 billion), Paris-based Pernod said in a statement. The median earnings estimate of 13 analysts was 1.38 billion euros.
"These are not great results in our view, but after Pernod Ricard's turbulent performance over the last couple of years, not great feels adequate to us," James Edwardes Jones, an analyst at RBC Capital Markets, wrote in a note to investors. He has a "sector perform" recommendation on the stock.
Pernod, the maker of Absolut vodka and Chivas Regal whisky, has been held back by a slowdown in emerging markets and a shift by drinkers from vodka to whiskies and craft beer in key markets, such as the U.S. The distiller has introduced lower-priced cognacs to China in response to the government's push against lavish spending, and Ricard wants to crank up the company's new product pipeline to lure new consumers.
Anise Spirits
"Our sales are gradually improving despite an environment that remains challenging," said Ricard, whose late uncle Patrick built the anise-spirit maker into the world's second-biggest distiller. "Heartened by this encouraging first semester, we confirm our full-year guidance of growth" in adjusted operating profit of 1 percent to 3 percent.
The shares traded 2 percent lower at 105.40 euros at 9:01 a.m. in Paris. The stock has gained 27 percent in the past year, giving the company a market value of 28 billion euros.
The new CEO said the company has the "financial flexibility to do targeted acquisitions of good size," as long as Pernod keeps its investment-grade credit rating.
Analysts are looking to Chinese New Year, which starts Feb. 18 and lasts for a week, as a key barometer of demand in the world's second-biggest economy. The holiday occurs later this year than in 2014 and, excluding that effect, first-half organic sales rose 2 percent, Pernod said.
Late Holiday
Sales rose 3 percent across Asia, when adjusted for the later new year, which was below the 4 percent estimate of Morningstar analyst Philip Gorham. The region is Pernod's biggest, accounting for about 39 percent of sales.
In China, "trends were better," Ricard said in a phone interview, with sales down 6 percent excluding the timing effect compared with the first quarter's 9 percent dip. Cognac sales and market share improved, yet gains were fueled by the lower-priced Noblige variant, which has narrower profit margins. Scotch sales in China fell 9 percent.
Ricard said he won't get a good sense of Chinese consumption trends until March, after the festival.
Volume of Pernod's so-called Top 14 brands, which include Kahlua liqueur and Beefeater gin, rose 2 percent, though sales were flat due to a more competitive market, Pernod said. Absolut sales fell 1 percent and to revive the aging brand, Pernod has introduced a higher priced Elyx variant.
Last month Diageo Plc, the world's biggest distiller, said scotch sales in China plummeted 22 percent in the first half of its fiscal year. Sales of Remy Cointreau SA's cognac fell 9.3 percent in the first nine months its fiscal year, although demand improved by 0.4 percent in the most recent quarter.
Before it's here, it's on the Bloomberg Terminal.
LEARN MORE