Activist Investor Peltz Hastens DuPont's Divorce From Wilmington
Tim Loh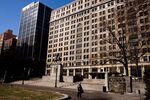 Standing on the deck of Delaware's oldest DuPont estate, Suzanne West peers down a tree-lined hill at mills that once transformed a small gunpowder maker into an industrial giant.
Built in 1802, the stately house eventually became a clubhouse for DuPont workers -- the sort of perk that greeted West's husband when he was changing jobs and moved from New York in the 1980s.
"When Mike came on, they flew you down, wined and dined you," West says, touring what is now the Hagley Museum with a couple of friends. "Back then, people of Wilmington still talked about 'Uncle Dupee.' How 'Uncle Dupee' will look after you."
These days, she's hearing a different kind of chatter. "I don't know what's happening to DuPont," she says. "It's just falling apart as far as I can tell."
For over 200 years, DuPont Co. and the city of Wilmington were something of soulmates. Now, they're going through a divorce. The split is being hastened by a business presence of more recent vintage, one-time corporate raider and now activist investor Nelson Peltz of Trian Fund Management. He and Trian are engendering animosity here as they wage a campaign that billions of dollars of value are locked up in the chemical company's sprawling operations.
The DuPont-Wilmington split has been a long time coming as the forces of globalization tear away at the old noblesse oblige. Peltz is merely hastening the process.
Peltz portrays DuPont as insular and unwilling to make the tough choices that would maximize shareholder value. The company has reacted by announcing plans to spin off its performance chemicals division, move out of its landmark downtown headquarters and sell its beloved DuPont Theatre.
Peltz, who declined to comment for this story along with Trian, isn't finished. He's waging a proxy battle to put four people –- himself included -- on DuPont's board, arguing the 212-year-old company should be split up. Trian this week softened its stand, saying it would be "open-minded to keeping the portfolio together if performance can be improved."
All this is prompting a spirited defense from DuPont Chairman and Chief Executive Officer Ellen Kullman, a Wilmington native. She declined to comment for the story. DuPont remains committed to its "home" of northern Delaware and will stay connected to Wilmington through its "longstanding support of numerous community organizations," Daniel Turner, a company spokesman, said in an e-mail.
Even so, the whole saga is still rattling the nerves of many longtime residents here who've relied on the industrial titan over the years as much for economic security as for a sense of identity.
"They were the corporation that put food on the table for lots of people," says Mayor Dennis Williams, who has 11 family members who worked for the company and who himself is a 1971 graduate of Pierre S. DuPont High School.
Uncle Dupee
DuPont's December announcement that it would leave its heritage building anchoring Rodney Square -- the bustling heart of downtown Wilmington overlooking the city's ornate public library, old post office and courthouse -- drew a dispirited response. "That was a back breaker," Williams says.
You can't go far in Wilmington, a city of just 71,000, without encountering evidence of DuPont's glorious past. It's in the class of U.S. cities that climbed to great heights on the back of a single company, like Rochester, New York, did with Eastman Kodak Co.
Faced with the retreat of such mainstays, these "company towns" have shown varying degrees of success in forging a path forward. Seattle turned itself into a technology hub after Boeing Co. began drastically paring operations in the 1970s before moving to Chicago in 2001. Then there's Gary, Indiana, which has experienced almost nothing but decay and decline since its heyday with U.S. Steel Corp.
The DuPont headquarters has loomed for more than a century over Wilmington's Rodney Square. The 13-story compound, occupying an entire city block, encompasses the lavish Hotel du Pont -– with its French restaurant and glitzy Gold Ballroom -- and what, until January, was the 1,252-seat DuPont Theatre.
Those amenities were as much a gift to locals as a reflection of the company's early 20th century ambition to put Wilmington on the map, says Jonathan Russ, a professor of business history at the University of Delaware in Newark.
The plan worked. As DuPont flourished in the 20th century, on the back of such innovative products as nylon and Kevlar, Wilmington's identity as a company town solidified. "Uncle Dupee" grew so large and powerful that it drew the scrutiny of Ralph Nader, who in the early 1970s led a group study of the company's influence over everything from politics to charity to education.
"DuPont dominates Delaware as does no single company in any other state," the study concluded.
That clout was often put to good use. In the late 1960s, as Wilmington endured months of race riots that required the calling out of the National Guard, DuPont made a concerted effort to hire more minorities.
"They owned the city," says Chester Harris, a 76-year-old African-American who joined the company in 1967. Harris, who'd grown up on a Virginia farm and never gone to college, has nothing but fond memories of his 26 years at DuPont. He spent his final decade donning a company-issued suit and tie each morning and chauffeuring top executives around in a limousine. He recalled once getting a $150 tip from a CEO after a trip back from New York's JFK airport.
"When they asked you to do stuff, they appreciated it," he says, sipping coffee at a downtown cafe called Brew Ha Ha!
Seated across the table, his son Coley has a different story. Coming of age in the late 1980s, he watched as DuPont retrenched amid the intensifying forces of global capitalism.
In 1989, the company still employed 19,000 people in Delaware. That accounted for 6 percent of all the state's jobs, according to George Sharpley, chief economist at the Delaware Department of Labor, citing a 1995 report from the Bureau of Economic Research at the University of Delaware.
By 1995, it had pared 5,600 of those jobs amid a protracted cost-cutting campaign that saved the company $3 billion, reduced its downtown footprint and got rid of perks like the in-house limo service.
Coley Harris, now 42, got into the city's street life, trafficking in drugs and landing in prison in 1994 after being convicted of murder. Out of prison, he now mentors young-adult inmates for a program called Victims' Voices Heard and detects an air of hopelessness that's settled over the city's poor neighborhoods.
The unemployment rate today is 6.4 percent, compared to a statewide average of 5.4 percent. Worse, there's a plague of violence that in 2014 included 28 homicides -- and seven more in January. That made it per-capita one of America's most dangerous cities, leading Newsweek magazine to label it "Murder Town, USA."
Coley Harris can't imagine DuPont ever regaining its old clout. Still, he was gutted when the company announced its exit from downtown.
"It was like, 'DuPont's giving up on us too?'" he says.
Country Club Capitalism
In fact, the headquarters is only relocating about 4 miles (6 kilometers) into the suburbs -- to DuPont's sleek and modern Chestnut Run Plaza campus. From there, executives will manage a global empire of more than 60,000 employees in over 90 countries that includes a dozen "innovation centers" located from Brazil to Japan and a seed processing plant in Ethiopia.
DuPont no longer makes gunpowder or nylon. Instead, it racks up most of its $34.7 billion in annual revenue manufacturing chemicals and biologically engineered products for everything from agriculture to photovoltaic solar panels.
Even out in the suburbs it's hard to miss the pull of DuPont's past. Within minutes, you can drive into the rolling hills of "Chateau Country," where many of the du Pont family heirs have estates. A tour will take you past the Hagley Museum -- now owned and operated by a nonprofit -- or to the picturesque DuPont Country Club, a facility formed in 1920 on the grounds of family and company land that only opened its membership to the general public seven years ago.
Today, the golf and tennis club is squarely in the crosshairs of Peltz's activism.
"It's a very civilized sort of place, like everything DuPont has done," says retired electrical engineer Mike McCann, strolling on a cold January day around one of the club's three 18-hole golf courses with his wife, Jenny.
"DuPont took a lot of pride in creating not just a good business, but doing so in a benign, paternalistic way," he says, sounding wistful amid the stately brick homes and big lawns that flank the golf course. School buses are dropping off children. Geese are honking on a nearby fairway.
If Peltz gets his way, McCann says, the company might save a bit of money. "But you'd lose something," he says. "Some of the social milieu, really."
McCann doubts a concerted drive for short-term profits can sustain the scientific brainpower that's built up over decades in the region. He thinks amenities like the DuPont Country Club will disappear, too. He's seen the script before. In 2001, struggling local chemicals company Hercules Inc. -- which grew out of DuPont in a federal antitrust crackdown in 1911 –- sold off its 64-year-old country club to shore up finances. Within a decade, the new owners closed up the club.
"Now it's just derelict land," McCann says. "They'll fill it in with housing and it'll change the character of the place."
More conflicted about DuPont's lot is Tatiana Copeland, a former company employee who also happens to be married to the son of Lammot du Pont Copeland -- the last du Pont family member to be CEO of the company, back in the '60s. As a member of the city's Grand Opera House board, she orchestrated the recent sale of the DuPont Theatre subsidiary. Terms of the deal weren't disclosed.
She called the sale good for Wilmington, because arts aren't central to DuPont's business. And while that also applies to the hotel and country club, she'd like the company to at least retain ownership of them because they reflect its history of looking after workers -- and their drag on the company's profits can only be "infinitesimal," she says.
Peltz is an "extremely smart man," Copeland says, but while his plan may enrich himself and shareholders, it would also cost a lot of jobs. And yet, as a shareholder herself, she doesn't want DuPont to shy away from adapting to the global marketplace.
"Thank God I don't have to make these decisions," she says.
Kullman is a "very, very smart leader," she says, who is doing a good job balancing the company's need to stay competitive with the local population's desire for it to hang on to its roots.
A third-generation Wilmington native, Kullman grew up within blocks of the DuPont Country Club. Her parents ran a landscape contracting business called Brandywine Nurseries that her siblings still operate. She has a mechanical engineering degree from Tufts University and a master's degree from the Kellogg School of Management at Northwestern University. She joined DuPont in 1988 as a marketing manager for the medical imaging business.
For now, Kullman, 59, is refusing to grant Peltz a spot on the board, saying in a letter filed with the Securities and Exchange Committee that his plan to break up the company would be bad for shareholders in the long-term.
"I'm sure she's guided by the fact she's from the area," Copeland says. "That's part of her psyche."
Post DuPont World
Driving into downtown, it's clear how much DuPont has already retreated from Wilmington. The skyline looks straight out of Wall Street, with towers sporting the logos of JPMorgan Chase & Co., Bank of America Corp. and Citigroup Inc.
That's a product of legislation passed in the early 1980s to lift a flagging state economy by luring credit card companies -- legislation that came under Governor Pierre S. du Pont IV. Now, local officials are looking for another shot in the arm. Once DuPont pulls out of its headquarters, the soon-to-be spun-off performance chemicals division, Chemours Co., will stay –- for how long is a hot topic in Wilmington.
"I'm prepared to roll the red carpet out for them," the mayor says. "But the bottom line is the dollar, and shareholders have the ultimate power."
For now, Williams is trying to foster small businesses and entrepreneurs, he says, and lure banks to bring employees back into the city. It's a sentiment echoed by Venu Gaddamidi, a 36-year-old son of a DuPont chemist, who in 2009 opened a boutique beer and wine shop called Veritas.
Gaddamidi's store is located in Riverfront Wilmington, a massive redevelopment of old shipyards into a mixed-use space that includes offices, a minor-league baseball stadium and apartments. He considers Peltz a breath of fresh air.
On a recent weeknight, in the bar area of his shop, he was serving up Indian fare, organic wines and craft beer to a clientele of bankers and accountants, many of them contractors from out of state. He'd like them to move here.
In six years, he's seen the possible makings of change, at least viewed through the lens of a beer glass. For a long time, he could barely sell any of his favorite craft brews -- even the Dogfish Head beers produced in Delaware -- because the typical customer was still a Budweiser fan. Now, picking up a BrewDog Paradox Smokehead -- a Scottish imperial stout with 10 percent alcohol -- he says palates are changing.
"This sells for $14," he says. "It says we're not going to be hermit crabs anymore."
No matter how the DuPont saga plays out, he's happy for one thing. "With the old boys' club, you didn't have to change," he says. "Finally, Wilmington is doing the things it needs to do to attract the youth and the investments for businesses of tomorrow."
Before it's here, it's on the Bloomberg Terminal.
LEARN MORE