Louisiana Rattled by Oil Shock That Idles Tugboats
Brian Chappatta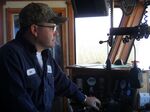 Collapsing oil prices are shaking the foundations of Louisiana's economy.
In Metairie, outside New Orleans, a recruiter who places oil and exploration workers says his phones have stopped ringing. In Buras, near the mouth of the Mississippi, a family-run tugboat company may let workers go for the first time in decades. And in Baton Rouge, Louisiana's treasurer says the state's credit rating is at risk as lawmakers face a $1.6 billion budget gap.
Throughout Louisiana, where proceeds from oil and gas extraction account for 13 percent of revenue, the shock waves from the seven-month plunge in crude prices are hitting home. A 28 percent decline since the start of December threatens to extend an eight-month streak of increases in Louisiana's jobless rate, the longest since the recession.
"Oil is huge, it touches everything," Norby Chabert, a 39-year-old Republican state senator, said while reclining on a couch in Bar Roussell, a lounge he owns in the Cajun country oil town of Houma. "Everyone in the oil industry knows the price of oil is going to rise and fall. The question is the duration."
Halliburton Cuts
As the price of the commodity hovers above six-year lows, companies that help find and produce it are suffering. Halliburton Co., the world's second-largest oilfield services provider, said this week it's cutting as much as 8 percent of its global workforce of more than 80,000. Service company Schlumberger Ltd. said last month it will drop 9,000 jobs, while Baker Hughes Inc. plans to cut 7,000 positions. The reductions include positions in Houma and Lafayette.
Louisiana's jobless rate jumped to 6.7 percent in December, from 5.4 percent a year earlier, Labor Department data show. North Dakota, a center of the shale-oil boom, was the only other state where the rate rose, to 2.8 percent, still the nation's lowest. The U.S. figure of 5.6 percent that month was the lowest since June 2008.
Chad Madere, who owns Madere & Sons Towing in Buras with his brother, is trying to keep his 74 employees busy and employed even as the work load has dropped by half.
Gulf Towing
No one has been fired from the company, which has eight boats that tow rigs and barges along the Gulf Coast, since his parents founded it in 1982.
That may change if oil doesn't rebound, he says. The profit margin has shrunk to as little as 5 percent, from 15 percent to 20 percent last year.
"There's not enough work to go around to feed everybody," said Madere, a soft-spoken 40-year-old who keeps his mobile phone close and is quick to answer calls. "It's tough, it really is, especially when you have someone calling you literally begging for a job."
Madere is avoiding trimming staff because he's concerned that he won't get them back when the industry rebounds. It's worth scaling back in other areas to hold onto veteran captains, he said in his one-story office 65 miles (105 kilometers) southeast of New Orleans near where the highway ends.
"You can't just pick up that experienced person off the street," he said. "Once you lose your people, you've basically lost everything. You might as well shut the doors."
Job Seekers
The state's jobless rate rose last year partly because of an influx of people looking for work. Employment reached a record 2.05 million in December, up 3.25 percent from a year earlier, Labor Department data show.
Business services, as well as leisure and hospitality led the gains, according to Fitch Ratings, which gives Louisiana its third-highest credit rank.
Nationwide, energy companies are reducing workers. The industry made up 38 percent of 53,041 job losses in January among U.S.-based employers, according to a report from outplacement firm Challenger, Gray & Christmas.
While Texas led the reductions, it's just as tough in Louisiana, said Toby Toups, a recruiter for oil and exploration jobs at Personnel Consulting Group in Metairie. Sitting in his office just west of New Orleans, he talks of boom times as recently as last year, when he could make five calls about a prospect and receive three responses within days. The issue wasn't finding the jobs; it was getting enough candidates to fill them.
Even in October, he had 12 jobs to fill and was confident about prospects in 2015. Now, hiring has stopped and dismissals have begun, and Toups says he has three leads to work.
Capital Concern
"Six months ago, everyone wanted to get into oil and gas, because when it's good, it's really good, and it pays more than anything," Toups said. "But when it's bad, it's really bad."
The situation is also precarious in Baton Rouge, the capital. Republican Governor Bobby Jindal this month released a plan to close a $103.5 million budget deficit that opened up for this fiscal year as oil slid. His proposal involves freezing hiring, cutting library hours and buying less public-safety equipment.
Moody's Investors Service said in a Feb. 2 report that the mid-year adjustment undermines the state's rating, which is stable at Aa2, the third-highest rank.
Louisiana also has to contend with a $1.6 billion shortfall for the year that begins July 1, and has used up one-time methods to boost revenue, according to Moody's.
Borrowing Ahead
"We were in trouble before the oil price change -- we've had seven years of midyear budget cuts," John Neely Kennedy, Louisiana's treasurer, said in a telephone interview. "I don't think a rating decrease is inevitable, but if the Legislature doesn't get our fiscal house in order, we will have a rating decrease."
Kennedy said he and other Louisiana officials spoke on Wednesday with Moody's regarding the grade, and expect a decision next week.
"Moody's indicated that the committee would be reviewing our rating, that they'd either downgrade us or affirm," he said. "We argued persuasively, I hope, for the latter."
David Jacobson, a Moody's spokesman in New York, said the company doesn't comment on communication with issuers. A one-step cut to Aa3 would tie Louisiana with California, Connecticut and Pennsylvania for the third-lowest general-obligation rating among states.
Investors will have their say this month: The state plans to sell about $228 million of bonds in February, according to Fitch.
Since the recession ended in 2009, Louisiana's economy ranks as the fifth-weakest in the nation, according to the Bloomberg Economic Evaluation of States index. The gauge measures areas such as tax collections, home prices and personal income.
'Strategic Decisions'
Jindal's plan highlights that cuts would spare higher education, and he says the state would be better positioned to address the budget for next fiscal year.
"The declining price of oil required tough, strategic decisions about our spending," according to the budget report. "We worked carefully with each agency to prioritize programs and services for the people of the state."
Jindal's office referred questions to Kristy Nichols, the commissioner of administration.
"We're going to be prepared for a sustained decline," Nichols said in a telephone interview. "We're maintaining a conservative position on oil prices, and that's how we're building our budget."
The state plans to factor a price of $59 a barrel into its next budget, after starting this fiscal period expecting $93.
The price of West Texas Intermediate, the U.S. benchmark, shows signs of bottoming out. After falling below $45 a barrel last month from about $107 a barrel in June, WTI for March delivery climbed 3.5 percent to $50.54 a barrel at 9:24 a.m. on the New York Mercantile Exchange.
Plaquemines Peril
Even if the price climbed to $60, Plaquemines Parish south of New Orleans would face a $20 million budget hole, President Amos Cormier Jr. said in an interview at his Belle Chasse office. He wouldn't say how he plans to bridge the potential gap.
"My philosophy is we shouldn't panic at the present time, we have to stay as positive as possible, and cross those bridges as they come," Cormier said. The Republican began his term last month after campaigning on a pledge to sustain the coastal community, which took a direct hit from Hurricane Katrina in
2005.
"We hope that what we've been hearing is true -- this is just a bump in the road," he said.
'Ugly Time'
In Houma, down the street from Senator Chabert's bar, oil workers say they knew what they signed up for: a volatile industry that depends on a market-driven commodity.
"This is the ugly time right now," said John O'Brien, 33, who lives in Abu Dhabi and was in Houma for training. Smoking Marlboros and drinking beer at Mahony's bar on Main Street, he said most people try to save and plan ahead for times like these.
Down the bar, Brady Bischof, 46, a sales manager at an oil and natural-gas company, said Houma residents are concerned that the economy will shrivel once Mardi Gras festivities subside. He said he knows of machinists whose workload has dropped to 40 hours a week from 60.
"It affects everyone –- people count on the oilfield," Bischof said. "People across the country think paying $1.99 a gallon for gas is great. It's not great for anyone in this town."
Before it's here, it's on the Bloomberg Terminal.
LEARN MORE