With Kingsman, a Hollywood Director Puts His Costumes on Sale
Dapper disguises for super spies and the everyday gent
By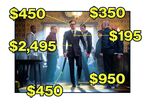 "A suit is a modern gentleman's armor," intones Colin Firth in the comedic espionage caper Kingsman: The Secret Service. "The Kingsman agents are the new knights." Firth, playing the international superspy Harry Hart, is standing in a clubby Savile Row dressing room teaching a lesson in sartorial wisdom to his latest recruit, Eggsy Unwin (Taron Egerton). Soon, Eggsy will have his own bespoke outfit, including a George Cleverley shoe that hides a poison-tipped knife and a gold lighter that doubles as a hand grenade. With these, he will save the world. (Oops, sorry. Spoiler alert.)
Throughout Kingsman, you may be distracted by the brogues, or the double-breasted suits, or even the eyeglasses and woven ties. You may also want to purchase them, which you can: Thanks to a partnership between the film's director, Matthew Vaughn, and the e-commerce emporium Mr Porter, almost all the apparel and accessories you see on screen were made available online when the movie opened in the U.K. in January. If you love British tailoring—and you have $1,995 to spare—try Firth's blue velvet dinner jacket. The knife shoes go for $950, blade not included. The Kingsman store from the film even briefly existed as a four-day pop-up at Huntsman, the Savile Row shop, where some scenes were shot.
It was Vaughn's idea to turn the costumes into fashion. After making action flicks such as X-Men: First Class and the Kick-Ass series, he started thinking about how a movie's merchandising could be improved. It would be more fun, he thought, to own a cinematic spy's actual wardrobe than some action-figure facsimile. So he approached Natalie Massenet, founder of Mr Porter's parent brand, Net-a-Porter. Then he and costume designer Arianne Phillips worked with Mr Porter's buyers to create a real version of the film's fictional haberdashery.
"If [the fashion] hadn't been integral to the film, then I would have been suspicious," says Toby Bateman, buying director for Mr Porter. But some of the partner labels, such as Turnbull & Asser, which sells $350 oxford-cloth dress shirts, were in the original script. After brands like T&A made garments for the actors to wear on screen, it was easy to persuade them to sign on for the Kingsman line, Bateman says.
Every item comes from a heritage U.K. manufacturer. Vaughn himself wears lots of niche British brands, so he suggested including things such as $150 driver's caps from Lock & Co. and $2,995 Swaine Adeney Brigg briefcases. It all looks masculine and enviable on Firth, Egerton, and the rest—and it holds up in a fight.
As a costume designer, Phillips is best known for her work on A Single Man, which, although it was directed by fashion designer Tom Ford, had no retail tie-in. "Being included into any kind of merchandising has never really been part of a conversation that costume designers have been invited into," she says. On-set artisans usually don't have rights to their creations after a movie is made. The Kingsman opportunity was a way for Phillips to retain control of her creative work—and to see how regular men might wear her looks. While Vaughn and Mr Porter share in the profit from the clothing line, Phillips is getting paid to design the collection for this season and next. Sales have been strong so far, Bateman says, and the line will continue whether or not the movie has a sequel.
The film itself is less well-thought-out. Eggsy is a plucky ne'er-do-well whose father, a Kingsman, was killed in one of his first missions. Years later, Harry nominates Eggsy when there's an opening for the spy gang. There are fun training sequences and plenty of those amusing Bondian innovations (the umbrella also doubles as a gun). Then the movie devolves into an extended confrontation with a tech magnate—played by a mincing Samuel L. Jackson—who's bent on destroying humanity to save the planet. At times the film functions as a class parable, with debts to Pygmalion. At other moments, it's a weak political satire.
Most of Kingsman plays out as a standard suits-and-spies flick. But as a director, Vaughn's best known for his violent fight sequences. So when those come—and they do, with guts and glee—they're startling and over-the-top. By the time the film is over, you'll wish you were back at the tailor shop of the earlier scenes, surrounded by all the beautiful expensive suits.
Before it's here, it's on the Bloomberg Terminal.
LEARN MORE