JPMorgan Asia Banking Heads Step Aside as CEO Adds Role
Cathy Chan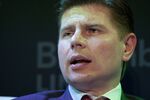 JPMorgan Chase & Co.'s Greg Guyett and Tom DuCharme are stepping aside as co-heads of Asia-Pacific banking, with regional Chief Executive Officer Nicolas Aguzin taking on their responsibilities.
Guyett and DuCharme will explore other opportunities within the firm, according to a memo from Carlos Hernandez and Jeff Urwin, co-heads of global banking. The contents were confirmed by Marie Cheung, a spokeswoman in Hong Kong.
JPMorgan eliminated the co-head roles after creating them two years ago, when the New York-based bank said it wanted to improve coverage of corporate clients. In previous management shuffles over the past 12 months in Asia, at least five of the firm's senior bankers changed roles, quit or prepared to depart.
Putting banking in Aguzin's hands, in addition to his role as CEO, will help to strengthen cooperation between different parts of the business, according to the memo. His extra responsibilities will span investment banking, corporate banking and treasury services.
Therese Esperdy, another previous co-head of Asia-Pacific banking, returned to the U.S. to become chairman of the financial institutions group after less than two years in the job. Frank Gong, the chairman of China investment banking, is leaving after less than a year in that role, people with knowledge of the matter said last month.
Changing Places
Gong's predecessor Fang Fang resigned in March last year amid an investigation by U.S. regulators into the firm's Asian hiring practices. Shao Zili, former China chairman and CEO, shifted last year to the role of Asia-Pacific vice chairman.
Hong Kong-based Guyett was named co-head of Asia-Pacific banking in July last year after previously serving as chief executive of JPMorgan's Greater China unit. He earlier ran the firm's Japan business and oversaw global corporate banking from London.
DuCharme, who's based in Singapore, became a co-head of banking in the region in December 2012 after joining from Deutsche Bank AG in October 2010.
Reuters earlier reported the latest changes.
Before it's here, it's on the Bloomberg Terminal.
LEARN MORE