Finns Face Grim Choices in a National Election
All the parties promise budget cuts and reduced benefits
By and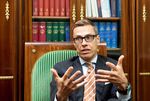 Just like in Greece, the main topic of Finland's national election, in April, will be austerity. But the Finns have little or no chance to vote against it. All the major Finnish parties promise painful belt-tightening to keep public debt from ballooning as the economy struggles to expand.
The government debt of Finland has almost doubled since 2008, from 28 percent of gross domestic product to 48 percent at the end of 2014. Taxes have risen 3 percentage points over the same period as different administrations tried to preserve benefits without resorting to deep cuts. The jobless rate this year will rise slightly to 8.8 percent, the government estimates. GDP languishes below its 2008 level.
Finland's economy has failed to recover from a multitude of shocks in the last seven years. Nokia went from being the world's biggest maker of mobile phones to making none, and the paper industry, Europe's biggest, suffered as readers abandoned newspapers for the Web. A record-long recession in the euro region and a downturn in neighboring Russia have hurt exporters of all kinds. Government forecasts that economic growth would fix public finances proved unfounded. Finland has the fastest-aging population in Europe, and politicians haven't figured out how to pay for the pensions and health care that the swelling ranks of retirees will need.
Among the first European nations to hold an election since anti-austerity party Syriza grabbed power in Greece, Finland may signal what's in store for incumbents in other national elections in Europe. With ballots approaching in Denmark, Ireland, Spain, and the U.K., more voters may reject the status quo because they're tired of governments' inability to end the lingering effects of the financial crisis and to keep their promise to restore prosperity. Polls in Finland show the opposition Center Party winning the most votes, in part because it hasn't held power in four years. "These elections will certainly be about the economy," says Juhana Aunesluoma, the director of the University of Helsinki's Network for European Studies. "Finland's economic situation and outlook are so worrying that the Center Party keeps gaining popularity while doing practically nothing."
In a Jan. 28 speech, the party's leader, Juha Sipila, didn't hide his pessimism as he presented his party's economic vision. He pledged to check spending and said he'd cut the budget to ensure outlays stay at the 2014 level. One target for cuts are Finland's generous unemployment benefits. Sipila says it will take another decade to revive the economy, and the country will need to scrap a goal of curtailing the growth of public debt by 2017. The party would seek to create 200,000 jobs under a to-be-unveiled plan that will mean more borrowing. "The situation is bleak, and this may be a longer endeavor than we realize," Sipila said.
Prime Minister Alexander Stubb sounds just as gloomy. "We've been living beyond our means since 2000," he said in a debate with other party leaders on Feb. 3. "We built our welfare society on the assumption that we would have 3 percent economic growth permanently." This year the economy is expected to grow 0.9 percent.
Finnish voters don't especially like the choices they face. Says Sirkka Kontula, a caterer: "The government proposes cutting jobless benefits to get the unemployed back to work faster—but what work? There is no work. It looks like those most in need in Finland are the least likely to get any help."
The bottom line: Finns are grappling with the realization that their benefits are based on an unsustainable rate of economic growth.
Before it's here, it's on the Bloomberg Terminal.
LEARN MORE