Finally, Good News for Workers at the Bottom
Black teens, the poorly educated, and the disabled are landing jobs
By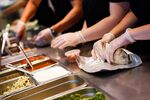 It's taken too long, but the U.S. economic expansion is finally benefiting people at the bottom of the ladder. Consider these stats from the Bureau of Labor Statistics' January jobs report: Employment of people without a high school degree rose 6 percent over the past year. Employment of black teens rose 18 percent. Employment of the disabled rose 20 percent.
There are some early signs that their bosses are paying a little better, too. In the low-paying leisure and hospitality sector, average hourly earnings rose 3.4 percent from January 2014, well ahead of the 2.2 percent rise for the overall labor force. (Mind you, the average in leisure and hospitality was still only $14.15 an hour.)
The long-term forces that have hurt employment and wages at the middle and bottom, including globalization and technology, are being partially offset by the upswing in economic growth. The economy added 1 million jobs from November through January, the best showing since November 1997.
Employers need to pay a little more to get the people they need to fill lower-wage jobs. On Feb. 6, before the January data came out, Michael Feroli, the chief U.S. economist of JPMorgan Chase, wrote in a report that "historically, as the labor market tightens the income distribution compresses, and wage growth tends to be the strongest at the lower end of the scale." In an interview after the report, he said the rise of employment at the bottom could last as long as the expansion continues.

The best news in the January jobs report was the increase in the labor force, which grew by an estimated 700,000 from December to January after taking into account an annual revision in the size of the U.S. population. Not all the people who entered the labor force found jobs right away, so the unemployment rate rose to 5.7 percent from 5.6 percent. The influx of new job seekers means that the fruits of the expansion aren't all being grabbed by incumbent workers; they're being shared with people who are coming off the sidelines. "All the right things happened" in January, says William Spriggs, the chief economist of the AFL-CIO. He says labor force growth should ease the fears that employers will get into bidding wars for talent that cause an inflationary spiral in wages.
The main problem is that wages aren't growing fast enough. Workers' "usual" weekly earnings rose just 0.5 percent from late 2013 to late 2014 for people near the bottom of all incomes. That was scarcely better than the 0.4 percent hike for people near the top. So there's a long way to go. High-powered job growth is at least pushing labor markets in the right direction.
The bottom line: The economy has been growing fast enough and long enough for employers to hire overlooked workers.
Before it's here, it's on the Bloomberg Terminal.
LEARN MORE