Ex-Korean Air Executive Gets a Year in Jail for Nut Rage
Sam Kim and Juwon Park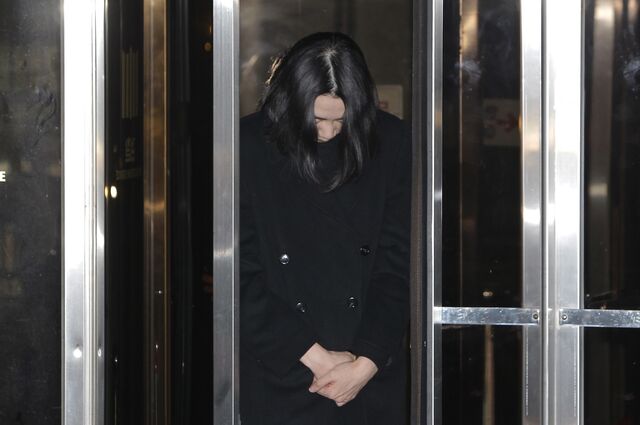 Heather Cho, the daughter of Korean Air Lines Co. Chairman Cho Yang Ho, was sentenced to one year in prison after she was found guilty of usurping a pilot's authority when she ordered a crew member to deplane during a row over in-flight service.
Her actions were "extremely dangerous and lacking in common sense," Judge Oh Sung Woo said Thursday in a ruling at Seoul Western District Court. The crew member's dignity "collapsed under money and hierarchy" after Cho treated him "like a slave," he said.
Cho, who stood with hands clasped and wearing a green prison uniform as the ruling was read out, was also found guilty of altering the plane's flight route. Her lawyer Suh Chang Hee declined to comment on whether Cho will appeal. Prosecutors had sought a three-year jail term.
Cho, 40, was cleared of the charge of interfering with a government investigation, court spokesman Lee Kwang Woo said in an e-mailed statement.
Cho was riding in first class on a plane departing New York for Seoul on Dec. 6 when a crew member offered her a bag of macadamia nuts. After scolding the flight attendant for failing to follow proper procedure in serving nuts, Cho ordered the plane back to the gate at John F. Kennedy International Airport so she could expel the chief purser from the aircraft.
The former Korean Air executive's arrest in December followed a public outcry in South Korea after the incident re-ignited a long-running debate over whether the country's vaunted chaebol, or family-run conglomerates, hold too much power and influence. Cho's actions were an example of the "sense of privilege" felt by chaebol families, the Dong-A Ilbo newspaper said in a Dec. 9 editorial.
'Treated Like Slave'
"The executive needs to apologize and reflect on the fact that she had considered the employee a 'slave' while physically assaulting him as well," the JoongAng Ilbo newspaper said in an editorial last week. "Cho's and Korean Air's attitude during the court hearing shows that they fail to see the core issue of this problem."
President Park Geun Hye addressed the issue of meting out justice to business owners in a press conference in January. "We shouldn't give them special treatment because they are executives, but we shouldn't discriminate against them in reverse because they are executives," she said.
Her government has introduced tighter controls on chaebol including a ban on the creation of new cross-shareholdings between affiliates, and fair-trade laws aimed at limiting profits gained by chaebol family members from transactions between group companies.
Korean Air initially downplayed the significance of the incident, pointing out that it took no more than two minutes to return to the gate to deplane the crew member. The flight was 11 minutes late when it arrived in Seoul on Dec. 6.
South Korean and overseas media dubbed it 'nut-rage' and Cho resigned from all of her positions at Korean Air and other affiliates during the public backlash. Her father apologized to the public for his daughter's behavior.
Yeo Woon Jin, 57, a Korean Air executive and Cho's aide, was also sentenced to eight months in prison for interfering with the government investigation. Yeo threatened to fire the purser following the incident in order to elicit his cooperation while the investigation was under way, according to Judge Oh.
Before it's here, it's on the Bloomberg Terminal.
LEARN MORE