Citigroup to Boost FX-Trading Fees 25% for Some Customers
Sam Mamudi, Dakin Campbell and John Detrixhe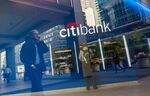 Citigroup Inc., the largest provider of prime-brokerage services to firms trading currencies, is using that size to extract higher fees from clients, according to people familiar with the firm's pricing.
Citigroup is raising prices for clearing and settling currency trades, according to four people with knowledge of the move, who asked not to be identified to preserve their relationship with the New York-based firm. For at least some clients, the price climbed by roughly 25 percent, one of the people said.
The currency dealer has told customers it's charging more as heightened volatility makes the $5.3-trillion-a-day market more perilous, and as technology and client-coverage costs climb, according to a person familiar with the matter. Higher revenue from price increases would provide Citigroup some relief after the bank suffered more than $150 million in losses on a jump in the Swiss franc and paid more than $1 billion to settle regulatory probes of exchange-rate manipulation.
"In light of the increased risks in markets, it's sensible to expect a higher premium in order to continue to keep the lights on," said Javier Paz, a senior analyst at Aite Group LLC.
Foreign-exchange prime brokerages provide clearing, settlement and financing for clients such as hedge funds, high-frequency-trading firms and retail foreign-exchange brokers. Once an institution has a prime-brokerage account it can trade anywhere that accepts the prime broker and will transact under that broker's name.
Adding Up
The price increase means a client paying $1 for every $1 million traded would now be charged $1.25 instead.
Margins -- the amount of collateral banks require in case a counterparty fails to pay -- also have increased, making trades more expensive, two people said.
"As a matter of policy we do not comment on fees," Scott Helfman, a spokesman at the New York-based bank, said in an e-mailed statement. Sanjay Madgavkar runs the business for Citigroup and reports to the global head of foreign-exchange and local markets, Nadir Mahmud.
Some of the world's biggest currency dealers are preparing to charge for other services as well. Barclays Plc, Deutsche Bank AG and JPMorgan Chase & Co. have told customers in recent weeks they may impose fees for trades executed at the WM/Reuters rates, including the 4 p.m. London fix, people familiar with the matter said earlier this week. Citigroup is weighing similar plans, one of the people said.
Price Slump
That move follows a September report from the Financial Stability Board, a body made up of global regulators, which recommended banks introduce a transparent pricing mechanism on such trades to remove the incentive for dealers to manipulate the benchmark to make a profit. Clients have until now been able to trade at the WM/Reuters rates at no charge.
Citigroup paid the heftiest penalty in November when regulators in the U.S. and Europe fined six banks a total of $4.3 billion. Investigators found traders colluded to rig currency benchmarks and boost their own profits at the expense of pensioners, investors, companies and ordinary citizens. Criminal probes of banks are still pending in the U.S.
The fight to provide prime-brokerage services in the currency market had driven down prices in recent years, leading some banks to scale back and allowing others to build market share. The big winners in the shakeout were Citigroup, as well as Deutsche Bank and JPMorgan, according to Paz.
Getting Stung
Last year Citigroup also ended Frankfurt-based Deutsche Bank's nine-year reign as the top currency trader in the annual Euromoney Institutional Investor Plc survey.
Currency prime brokerage can be a risky business.
The Swiss central bank's surprise decision last month to let the franc trade freely against the euro triggered a spike in the nation's currency and losses at Citigroup. The bank had magnified its exposure by failing to renew offsetting hedges a week earlier, people with knowledge of the situation said last month.
Citigroup also provided services including credit to FXCM Inc., the largest U.S. retail foreign-exchange brokerage, which almost failed as clients were stung by the franc's swing. A $300 million bailout from Leucadia National Corp., owner of investment bank Jefferies Group LLC, saved FXCM from violating capital requirements.
Before it's here, it's on the Bloomberg Terminal.
LEARN MORE