Gertler's Congo Oil Project Sees Start of Drilling by 2016
Malcolm Beith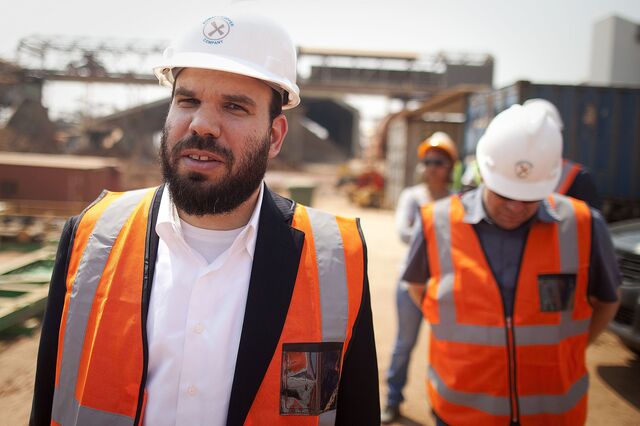 Oil of DRCongo, owned by Israeli billionaire Dan Gertler, said it expects drilling to start within 18 months on a project in eastern Democratic Republic of Congo that potentially contains as much as 3 billion barrels of crude.
A seismic study has been completed on the Lake Albert project, said Giuseppe Ciccarelli, the company's chief executive officer. Oil of DRCongo has to build a barge to transport the rig from Uganda to Congo's side of the lake and will also conduct a 3D seismic study, which will take about six months to complete, he said in an interview on Wednesday in the capital, Kinshasa.
The Lake Albert project, owned by Gertler's Fleurette Group, has been criticized by advocacy groups including U.K.- based Global Witness who are concerned that it may damage the environment and result in the exploitation of local villagers. The project may "change the economic equation of the country and contribute to stability in the region," Fleurette said in a statement on its website.
Ciccarelli said that as many as 40 families will have to be relocated about 300 meters (0.2 miles) from the Lake Albert project, and the oil company plans to build a school nearby at a cost of $280,000.
According to a 2012 USAID report, the discovery of oil in the African Great Lakes region, which groups nations including Congo, "is likely to further complicate the governance of natural resources in the country and to make it harder to combat corruption."
'Old Sensitivities'
Organizations such as International Crisis Group, an advocacy group based in Brussels, have also warned that the exploration of oil reserves in eastern Congo may escalate conflicts with rebel groups and even "rekindle old sensitivities" with countries like Uganda.
There are about 24 rebel groups operating in eastern Congo, a key source of minerals including tin, gold and tantalum, which is used in smartphone and laptop batteries. Since Uganda and Rwanda invaded eastern Congo in 1996 to fight perpetrators of the 1994 genocide in Rwanda, groups including the United Nations have said Uganda was seeking to establish control over mineral rights in the region.
Ciccarelli said that there have been no problems with rebel groups in the area, adding that "we have a relationship with the community."
'Equilibrium Point'
An almost 50 percent drop in global oil prices last year prompted the International Monetary Fund to cut its sub-Saharan Africa economic growth forecast to 4.9 percent in January from 5.8 percent previously. Brent crude for June settlement traded 2.6 percent higher at $52.56 a barrel at 1:26 p.m. on the London-based ICE Futures Europe exchange.
Ciccarelli said he expects the oil price to return to an "equilibrium point" of $70-$80 a barrel by the end of 2015. "With this price, even if oil is produced in a remote location, you will have a profitable operation," he said.
Three companies, including London-based Tullow Oil Plc, Total SA of France and China National Offshore Oil Corp., have already drilled more than 100 wells on the Ugandan side of the lake, Ciccarelli said. Uganda has estimated resources of 6.5 billion barrels of oil, according to the government.
Congo's parliament has been debating a new oil law since 2013. Groups including Global Witness have criticized drafts of the code, arguing that they don't contain adequate transparency measures and safeguards against corruption.
"I think it's a good law," Ciccarelli said. "It's a big step toward transparency and toward maximization of benefits for the government. With this law, Congo will be able to attract a lot of investment."
Before it's here, it's on the Bloomberg Terminal.
LEARN MORE