Insuring Against Apple Blow-up Just got a lot More Expensive
Sofia Horta e Costa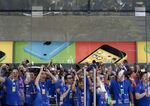 Apple Inc. has reached $700 billion in market value. As investors buy up the stock, some are also hedging their bets.
Options trading shows the cost of protection more than tripled since a low on Nov. 17, according to data compiled by Bloomberg. The shares are not safe from market drawdowns and a stronger dollar may hurt earnings, said Virginie Robert of Constance Associes. After climbing to a record in 2012, Apple fell 44 percent in seven months.
"The Apple rally will stop at some point," said Robert, co-founder of the Paris asset-management firm that holds Apple shares. "Not all quarters will be as good as the last one."
Apple reported a record $18 billion in quarterly profit on Jan. 27, propelling the shares higher and spurring shareholder Carl Icahn to say it's one of the best buys in decades. Still, the company made 65 percent of it sales from outside the U.S. in the last quarter, and that could be a problem with the dollar at its strongest in more than 10 years.
A technical analysis signal shows momentum in Apple shares is increasing, with the relative strength index higher than 70. The last time it reached that level in November, the stock fell 10 percent in less than three weeks.
Apple rose 1.7 percent to $126.95 at 9:39 a.m. in New York after a 2.3 percent gain on Wednesday as Icahn raised his anticipated price for the company's shares.
Kristin Huguet, a spokeswoman for Apple, didn't immediately respond to an e-mail seeking comment on the options trading and technical analysis.
Apple Success
New iPhones and a 70 percent jump in sales in China helped fuel Apple's success last quarter. The Cupertino, California-based company is preparing to begin selling the Apple Watch in April, adding to its range of smartphones, tablets, music players and computers.
Even as Apple hedges against currency swings, fluctuations could pose a threat to its earnings. Revenue in the second quarter will increase by as much as 20 percent, less than the 30 percent jump for the last three months of 2014, said Chief Financial Officer Luca Maestri. In December, Apple briefly halted online sales in Russia on the day the ruble lost as much as 19 percent.
Options betting on a 10 percent decline in Apple shares cost 2 points more than those wagering on a 10 percent rise, according to six-month data compiled by Bloomberg. The relationship known as skew increased to 2.5 points Jan. 21, the highest since October 2012.
Apple has rallied 13 percent this year, while technology companies in the Standard & Poor's 500 Index are up 0.3 percent. Even so, Apple trades at 14.7 times estimated profits, 10 percent lower than its peers in the stocks gauge.
More Investors
As the company grows bigger, it will start attracting investors more interested in stable returns from dividends and such, according to Alison Porter at Henderson Global Investors in Edinburgh. Chief Executive Officer Tim Cook said this week Apple is reviewing its capital-return program and will announce changes in April. The company has completed $103 billion of its $130 billion dividend and stock-buyback plan.
"The stock trades below the market multiple and is still attractively valued," said Porter, who helps oversee the $3.2 billion Global Technology Fund. Its largest holding is Apple. "Given the potential for improved capital allocation and a higher dividend, Apple shares will draw a whole set of new investors looking for income."
But even Apple isn't immune to bouts of market volatility. The stock hit a low in October as concern about a slowing global economy sparked a rout that wiped more than $5.5 trillion from the value of global equities. After recovering, it fell from its November peak through mid-December as investors fled risky assets amid political wrangling in Greece.
At this price, some stock investors might just prefer to sell and get the profits, according to Manish Singh, head of investments at Crossbridge Capital in London.
"I'm sure there will be some sellers on the back of this strong rally," said Singh, whose firm oversees more than $2 billion and owns Apple shares. "For me, the stock has more to run. This doesn't mean it won't fall if macro factors change and broader market volatility increases."
Before it's here, it's on the Bloomberg Terminal.
LEARN MORE