Alabama Judge Ordered to Issue Gay Couples Marriage Licenses
Kathleen Edwards and Erik Larson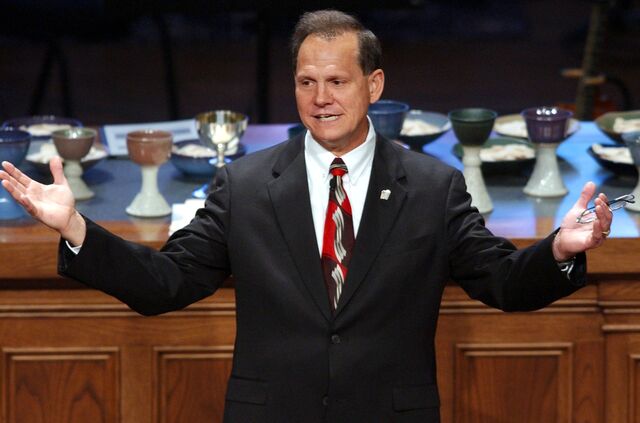 An Alabama official who refused to issue marriage licenses to gay couples was ordered to reverse course by the same federal judge who last month overturned the state's ban on same-sex unions.
Probate Judge Don Davis of Mobile County, Alabama, was sued Monday by four same-sex couples after shuttering his marriage license office to avoid complying with the January federal court ruling.
"Judge Davis may not deny them a license on the ground that plaintiffs constitute same-sex couples," U.S. District Judge Callie Granade said Thursday. It was Granade who ruled last month that barring gay marriage violated the U.S. Constitution.
Michael Druhan, Davis's lawyer, said at a hearing earlier in the day in Mobile that the probate judge wasn't making a political statement when he refused to issue the licenses. Davis was constrained by a Feb. 8 memo from Roy S. Moore, chief judge of Alabama's Supreme Court, ordering the state's 68 local probate judges not to comply with Granade's January ruling.
Moore's memorandum still holds sway in other parts of Alabama, where dozens of judges are refusing to issue marriage licenses to same-sex couples.
'Chaotic Atmosphere'
Randall Marshall, a lawyer for the couples, told Granade at Thursday's hearing that Moore's administrative order was invalid and "created a chaotic atmosphere without regard to federal law."
In a 7-2 vote on Monday, the U.S. Supreme Court refused a request to delay Granade's Jan. 23 ruling that struck down Alabama's gay-marriage ban. Some probate judges are giving licenses to gay couples, making Alabama the 37th state to allow same-sex unions.
Granade cited the needs of the four couples to have certainty in issues pertaining to child care and health care.
"Every day that they are not allowed to be married, they experience uncertainty about whether they will be treated as family members if they experience a crisis or an emergency," Granade said in the ruling.
Before it's here, it's on the Bloomberg Terminal.
LEARN MORE