Zuma Speech Is Sideshow as South Africa's Malema Plots Chaos
Amogelang Mbatha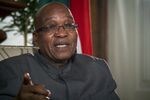 South African President Jacob Zuma's annual state-of-the-nation speech in Parliament on Thursday is being keenly anticipated for reasons that have nothing to do with what he will have to say.
While Zuma, 72, will seek to lay out the government's plans to bolster the economy this year, the public will be watching whether the Economic Freedom Fighters, the second-largest opposition party, follows through on a threat to disrupt the event. The EFF, led by the ruling party's former youth leader Julius Malema, wants Zuma to respond to demands to refund taxpayers' money used to renovate his private home.
"We have an appointment with Jacob Zuma on Thursday," EFF spokesman Mbuyiseni Ndlozi said in an e-mailed statement on Feb. 10. "We do not believe that Zuma will come to be held accountable in Parliament. The EFF will ask questions to Zuma during the state-of-the-nation address."
South Africa's graft ombudsman found that Zuma unduly benefited from a state-funded 215-million-rand ($18.2 million) home renovation and recommended that he repay part of the money. Zuma denied authorizing the makeover and a panel of ruling African National Congress lawmakers cleared him of any wrongdoing.
Zuma is scheduled to give his speech in the National Assembly at 7 p.m. local time. When he last addressed the legislature in August, he was heckled by EFF lawmakers wearing red coveralls, construction helmets and maids outfits, chanting "pay back the money."
'Frustration, Anger'
Riot police were called into parliament on Nov. 13 to eject an EFF member who called Zuma a "thief" and refused to withdraw her remark. Several opposition lawmakers said they were assaulted when they intervened.
"This whole situation shows that there's a lot of frustration and anger because people's expectations of the ANC have not been met and the EFF is channeling that frustration," Daryl Glaser, a political analyst at the Johannesburg-based University of the Witwatersrand, said by phone on Wednesday. "This is symptomatic of the fact that the ANC is on the defensive and things are not going well in the country in general."
The National Education Health and Allied Workers' Union said some of its members won't work overtime for the state-of-the-nation speech, according to an e-mailed statement from Parliament on Thursday. That will affect catering, transportation and ushering services, it said.
Popularity Decline
Fifty-one percent of 3,608 adults polled by research company Ipsos in October and November last year rated Zuma's performance as president as adequate. That's down from 69 percent of respondents interviewed in 2009, the year Zuma first took office.
The EFF, which advocates the nationalization of mines, banks and land, has capitalized on public discontent at what the party says is the government's slow pace of building houses and creating jobs in an economy where almost one in four is unemployed.
The party, which Malema formed more than a year after being expelled from the ANC, secured 25 seats in the 400-seat legislature after winning 6.4 percent of the vote in the May elections.
Zuma told newspaper editors on Feb. 8 that Baleka Mbete, the speaker of parliament and a senior ANC member, was responsible for maintaining order in the National Assembly and he isn't concerned about his speech being interrupted, according to Johannesburg-based Business Day newspaper.
Not Intimidated
"The EFF and all its members are not intimidated by the security forces that seek to undermine Parliament," Ndlozi, the party spokesman, said in an e-mailed statement on Thursday. "We will never be threatened by those who undermine institutions of democracy."
The party has been told the police plan to arrest its members, he said.
"At some stage the EFF has to think of more creative ways of getting their message across," Glaser said. "There are parliamentary rules and the EFF has been violating them. Continuing with this tactic indefinitely will eventually undermine parliamentary and constitutional democracy."
The Democratic Alliance, the biggest opposition party, said the state-of-the-nation address should focus on the real issues confronting South Africa, including power outages, poverty and unemployment.
Constant Bickering
Africa's second-largest economy grew an estimated 1.4 percent last year, the slowest pace since the 2009 recession, as strikes and power shortages curbed output. Eskom Holdings SOC Ltd. has implemented rolling blackouts for nine consecutive days as it struggles to meet demand.
There's a "low to medium" probability of power cuts on Thursday because the system remains constrained, the state-owned electricity utility said.
"South Africans do not want to see constant bickering and fights amongst politicians," DA Parliamentary leader Mmusi Maimane said in an e-mailed copy of a speech on Wednesday. "We will not join a circus in the National Assembly."
Before it's here, it's on the Bloomberg Terminal.
LEARN MORE