Whole Foods Low-Price Makeover Pays Off as Profit Tops Estimates
Craig Giammona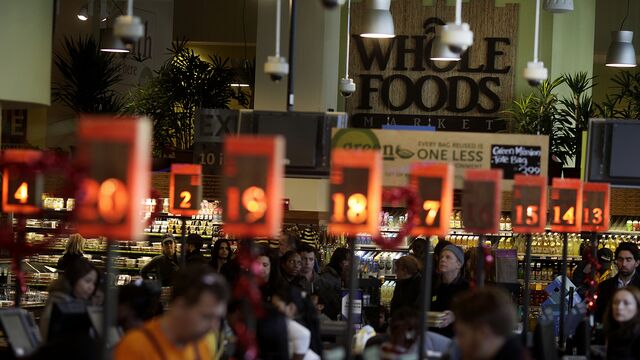 Whole Foods Market Inc.'s makeover is paying off.
After cutting prices in a bid to shake its reputation for expensive groceries, the company on Wednesday posted first-quarter sales that rose 10 percent. And even while selling its wares for less, Whole Foods still managed to produce profit that topped analysts' estimates.
"This quarter shows they can lower prices and not kill their margins," said Brian Yarbrough, an analyst at Edward Jones & Co. in St. Louis. "They're going to continue to see pressure there."
Investors cheered the news, sending the shares up 3.9 percent to $55.62 at 9:37 a.m. in New York. The stock earlier climbed as much as 5.2 percent, the biggest intraday gain in three months.
Whole Foods has been pressured to lower prices, particularly on produce, because of increasing competition in the organic-food market from the likes of Kroger Co. and Wal-Mart Stores Inc. So far, the strategy is working. Sales at Whole Foods stores open at least 57 weeks rose 4.5 percent in the quarter through Jan. 18, up from a 3.1 percent gain in the prior period. Same-store sales in the current quarter were up 5.1 percent through Sunday, showing the momentum has continued.
The company also reiterated its forecasts that revenue in its current fiscal year will grow more than 9 percent and that same-store sales will gain at a low- to mid-single-digit percentage rate.
Profit Rises
For the first quarter, net income rose 5.7 percent to $167 million, or 46 cents a share, the Austin, Texas-based company said. The average of 30 analysts' estimates compiled by Bloomberg was 45 cents. Revenue gained to $4.67 billion, matching analysts' average projection.
In September, a Bloomberg Intelligence report showed that the company was making progress in shedding its "Whole Paycheck" image. The study found that a basket of 97 grocery items from Whole Foods in New York City was cheaper than the same group of items from some rivals.
Whole Foods also released its first national advertisement campaign late last year and is continuing to expand. The company repeated Wednesday that it plans to increase its square footage by 9 percent to 10 percent, based on 38 to 42 new stores, including five or six relocations.
"When competition rears its head, we respond," Co-Chief Executive Officer John Mackey said on a conference call Wednesday. "That's what we're doing right now."
Before it's here, it's on the Bloomberg Terminal.
LEARN MORE