What Are 'Enduring' Combat Operations Against ISIS? Congress Has No Idea
The AUMF language that pleases Democratic leaders but no one else.
By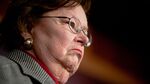 At Tuesday's meeting with White House chief of staff Denis McDonough, Senate Democrats got a strong sense of what would be in an authorization of military force against the Islamic State.