Tesla Misses Estimates After China Sales Disappoint
Dana Hull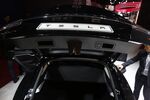 Tesla Motors Inc. tumbled in early trading after the electric-car maker led by Elon Musk missed targets for vehicle deliveries and reported an unexpected quarterly loss.
The shares fell as much 9.2 percent Thursday, after the electric-car maker reported a fourth-quarter loss, excluding certain items, of 13 cents a share, in a letter to investors posted on its website. Analysts had estimated a profit of 32 cents a share, on average, according to data compiled by Bloomberg. Tesla delivered a record 9,834 vehicles, missing the average analyst estimate by almost 1,000 and its own goal by 1,345.
The company said that while it met its full-year production target of 35,000 Model S cars, many weren't finished until late in the year and couldn't be delivered to customers in 2014 because of holiday vacations and severe winter weather. About 1,400 deliveries slipped into the first quarter.
"The stock is down because they missed on deliveries, revenue and earnings," said Theo O'Neill, an analyst with Ascendiant Capital Markets. "But the miss has nothing to do with demand. Blaming customers for taking vacation seems like an odd thing to put in the press release."
Tesla shares dropped 8.3 percent to $195 at 7:28 a.m. New York time and earlier traded as low as $193.12. The stock gained 48 percent last year and fell 4.3 percent this year through Wednesday.
Tesla, the youngest and smallest publicly traded U.S. automaker, is seeking to make electric cars for the masses by boosting production with the construction of a battery factory near Reno, Nevada. The company faces some headwinds at home and abroad. In the U.S., the lowest gas prices in more than five years have made traditional cars more attractive to U.S. drivers. Meanwhile, sales in China have slowed amid consumer perception that home charging is difficult.
China Challenge
"They got off on the wrong foot in China and it's going to take more time to figure it out," said O'Neill.
Tesla didn't report how many deliveries it made to customers in China. Musk said last month that consumers there were reluctant to switch to electric vehicles because of perceptions that home charging is difficult and the lack of an extensive public charging network.
Tesla said Wednesday that it's working to make Chinese consumers more confident in purchasing a Model S by installing chargers at buyers' homes before the vehicle is delivered. The automaker is also adding features for the Chinese market, where buyers often are driven.
"We believe our new executive seats and second-row center console will be quite popular with new China customers," Tesla said in its letter.
2015 Outlook
The company's plan to make about $1.5 billion in capital expenditures this year has the kind of "intensity" usually seen at traditional automakers, said Ryan Brinkman, an analyst with JPMorgan Chase & Co., who downgraded the stock to underweight from neutral.
Brinkman had estimated that Tesla would spend about $900 million.
"While other automakers are beginning to emulate Tesla in important respects, it is not lost on us that Tesla is in some ways beginning to look more like other automakers," he wrote in a note to investors.
Tesla said it expects to deliver 55,000 Model S and Model X vehicles in 2015 and that it will begin shipping the long-awaited Model X in six months. In November, Musk said he anticipated delivering 50,000 Model S cars this year. The Palo Alto, California-based company said it has received almost 20,000 Model X reservations.
Despite missing estimates on deliveries and profit, which have been anticipated since Musk's comments about China in January, the report was positive, said Ben Kallo, a San Francisco-based analyst with R.W. Baird & Co.
"The guidance of 55,000 deliveries this year is in line, and they're still on track for Model X timing," he said.
Before it's here, it's on the Bloomberg Terminal.
LEARN MORE