business
Swiss Bank Says Investors Favor Gold Amid Charges on Cash
Giles Broom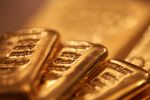 Investors are buying more gold as an alternative to hold Swiss franc cash deposits, according Vontobel Holding AG, a Swiss bank and wealth manager.
"We keep noticing that gold is coming back into favor with investors," Vontobel Chief Executive Officer Zeno Staub, 45, told reporters Wednesday after the Zurich-based company announced full-year earnings.
Concerns that Greece may abandon the euro and Ukraine may be headed for a wider conflict have spurred demand for haven assets. Gold has climbed 4.2 percent this year, even as the dollar strengthened on prospects of higher U.S. interest rates. Investors' holdings in gold-backed funds are near the highest since October.
Vontobel boosted the proportion of gold in discretionary managed investments by 2 percent after the Swiss National Bank increased charges on banks that use it as a custodian for franc deposits, Staub said. The central bank introduced a 0.75 percent negative interest rate on some deposits as of Jan. 22.
Staub said Vontobel is charging only very large institutional clients, in particular banks, additional fees to compensate the cost of the SNB's negative rate, a measure aimed at deterring investors seeking relative security from buying more francs. Smaller and private clients aren't affected, he said.
Vontobel's individual and family clients can give control over investment decisions to the bank through its discretionary managed portfolio mandates. Staub didn't elaborate on which clients are buying gold or the breakdown of asset classes.
Other Banks
Vontobel is one of a growing number of Swiss banks, including UBS Group AG and Credit Suisse Group AG, the country's two largest lenders, that are passing on the SNB's negative rate charge to clients. The cost of holding Swiss cash or bonds, which have yielded negatively for notes as long as 10 years, is prompting bankers and their clients to review investment portfolios.
Geneva's biggest banks Pictet & Cie. Group SCA, Cie. Lombard, Odier SCA and J. Safra Sarasin Holding AG, have also introduced new charges for certain customers.
UBS CEO Sergio Ermotti said on Tuesday the surge in the franc and negative interest rates in Switzerland and the euro area will put pressure on profitability and business targets if they persist. Ermotti said he can't rule out that more than just corporate clients will be affected by the cost of negative rates.
Before it's here, it's on the Bloomberg Terminal.
LEARN MORE