Stewart Lets Viacom Shake Up Late Night Again by Hiring a Woman
Kelly Gilblom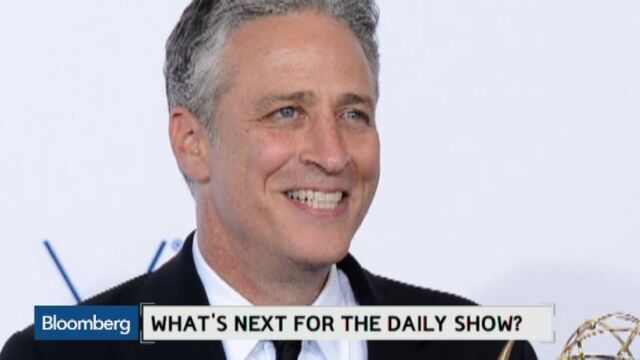 As cable TV audiences bid farewell to Jon Stewart, one of their beloved comics, Comedy Central has a chance to shake up late-night TV again by naming a host for "The Daily Show" who's not a white male.
Tina Fey or Amy Poehler would bring name recognition that rivals Stewart's. Comedy Central could also promote one of the show's correspondents, such as Jessica Williams, who's well-known to fans of "The Daily Show."
By choosing a host of a different race or gender, Viacom Inc., the owner of Comedy Central, could head off comparisons with Stewart, who won over audiences with his witty take on politics and current events, A new host will have an opportunity to change "The Daily Show" in other ways. The program was started by two women.
"If you look at who is doing all the night-time shows on major networks, big comedy shows, it's all men, and mostly white men," said Dustin Kidd, an associate professor of sociology at Temple University in Philadelphia. "They need to reach out to someone who isn't white and think about a woman."
Robert Thompson, director of the Bleier Center for Television & Popular Culture at Syracuse University, sees three obvious candidates in women who already work on the show and have won over viewers.
Williams, who joined "The Daily Show" in 2012, was previously a stand-up comic. Samantha Bee has been with the show for more than 10 years, while Kristen Schaal started in 2008 and has also been in movies including "Toy Story 3" and "Dinner for Schmucks."
"'The Daily Show' would get a lot of credit for replacing Jon Stewart with an African-American woman," Thompson said by phone. "I think Jessica Williams would be a splendid choice."
Steve Albani, a spokesman for Comedy Central, said the network wouldn't comment on possible successors.
Voting Booth
The trade publication The Wrap on Wednesday listed 13 possible replacements on its website. Only two were women, Chelsea Handler, who has hosted talk shows on the E! network and is creating a new one for Netflix Inc., and Schaal.
With Stewart reportedly earning as much as $30 million annually, more than any other talk-show host on broadcast or cable TV, Comedy Central will be in position to pay up for an established star, Barton Crockett, an FBR & Co. analyst, wrote in a research note today.
"We expect Viacom to pursue high-profile replacements, and to benefit near-term from a goodbye tour that helps ratings," Crockett wrote.
The popular Stewart, 52, said Tuesday night in New York he is leaving "The Daily Show," a job he's held since 1999. The announcement came months after departure of two heir apparents. Stephen Colbert left to become late night host on CBS while John Oliver was hired by Time Warner Inc.'s HBO. Larry Wilmore another Stewart protege, now hosts "The Nightly Show" on Comedy Central.
Exit Timing
Stewart didn't say when he's leaving. Comedy Central said in a statement "The Daily Show" will "endure for years to come."
Stewart turned the show into an influential outlet for political commentary and a chief source of news for the 18-to-34-year-old male demographic, a group advertisers target.
A 2014 report by the Brookings Institution showed "The Daily Show" is a more trusted news source than MSNBC.
"The Daily Show" averaged 1.3 million viewers a night in the week ended Jan. 30, according to Nielsen data. That compared with 4 million for "The Tonight Show Starring Jimmy Fallon" in the current TV season and about 2.7 million each for CBS's the "Late Show With David Letterman" and "Jimmy Kimmel Live."
Comedy Central's prime-time audience has shrunk 17 percent in the current TV season that started in September, to an average of 693,000 viewers a night from 831,000 a year earlier, according to Nielsen data.
Anticipated Departure
Thompson said to keep its audience, "The Daily Show" should promote from within. Since Oliver, who briefly hosted the show in 2013 when Stewart left to direct a movie, is no longer available, other correspondents are the best choice.
"My guess is they are not only scrambling to answer that question now, but have been thinking about it for some time," Thompson said. "The stable of people being groomed internally was in anticipation of Jon Stewart leaving sooner rather than later."
Kidd said outside candidates, such as Poehler or Pete Davidson, a 21-year-old "Saturday Night Live" cast member, would be just as good and keep the younger audience drawn to Stewart's irreverent take on news.
"They need to target the social-media generation, the 18-to-34," Kidd said. "They're getting that audience, but they need to be recruiting someone for this show who is from that demographic."
Nikki Usher, an assistant professor at the School of Media and Public Affairs at George Washington University, said it's more likely the network will choose another white male, even if the idea of hiring a woman is popular.
Young males are still among the most sought-after group by advertisers and there's a perception that men are a more-trusted source of news and are funnier, according to Usher.
To pick a woman "you'd have to have someone so amazing that you appeal to the dude who looks up to Jon Stewart as 'The Man,'" Usher said.
Before it's here, it's on the Bloomberg Terminal.
LEARN MORE