Pistorius Prosecutor Starts Appeal Seeking Murder Conviction
Andre Janse van Vuuren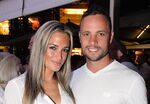 South Africa's prosecutor has filed notice with the country's Supreme Court of Appeal seeking a murder conviction for Oscar Pistorius for killing his girlfriend, Reeva Steenkamp, two years ago.
Notice to appeal the Paralympic gold medalist's manslaughter verdict was filed at the Pretoria High Court and the SCA on Feb. 9, ahead of a Wednesday deadline, Velekhaya Mgobhozi, an official at the National Prosecuting Authority, said in a text message.
Judge Thokozile Masipa on Dec. 10 granted the prosecution permission to appeal her ruling that had cleared Pistorius, 28, of murder charges after an eight-month trial. The athlete killed Steenkamp on Valentine's Day 2013 when he fired four hollow-point bullets through a bathroom door in his Pretoria home at what he said he believed was an intruder.
Prosecutor Gerrie Nel had argued that Pistorius must have known his actions would lead to the death of the person, and that his five-year jail term was "shockingly inappropriate." The sentence in Pretoria's Kgosi Mampuru prison can be commuted to house arrest after 10 months.
While the trial was televised and garnered a global audience, the appeals process will be less public and the athlete won't be present, according to Stephen Tuson, an adjunct professor of law at the University of the Witwatersrand in Johannesburg.
"Five appellate judges will consider the record and the arguments on why the conviction or acquittal was wrong or right," he said by phone. "It's a very dry, pretty academic exercise, based on the typed record. It's on paper. They will advance arguments, they will draw support for these arguments from the record."
Known as the Blade Runner because of his J-shaped prosthetic blades, Pistorius was the first double-amputee runner to compete in the Olympic Games. Born without fibula in both legs, which were amputated when he was 11 months old, Pistorius won six Paralympic gold medals.
(A previous version of the story corrected the spokesman's name in second paragraph.)
Before it's here, it's on the Bloomberg Terminal.
LEARN MORE