Rachel Maddow and Chris Hayes on What Jon Stewart Wrought
Liberal TV learned a lot from the Jon Stewart method.
By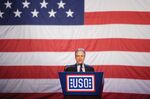 The Jon Stewart news cycle has taken on a sort of elegiac feel. Media reporters have asked what The Daily Show host's retirement may mean for Comedy Central. Progressive writers, increasingly, have welcomed the news as a way to start something new in the comedy/news sphere.