Putin's Words of Peace Buoy Stocks Even as Action Hard to Find
Elena Popina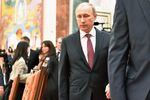 For investors in Russia, it pays to be bullish when President Vladimir Putin says he's interested in resolving the conflict in Ukraine. The market has reacted positively to his words even as peace has failed to take hold during the 11-month standoff.
Russian, Ukrainian and European leaders arrived in the Belarusian capital Minsk for peace talks to end the fighting. Since Putin's annexation of Crimea in March, the Market Vectors Russia ETF, the largest U.S. exchange-traded fund tracking the nation's companies, has posted one-day rallies of 2.5 percent or more on at least seven occasions following conciliatory signals from Putin's government.
It rose 0.7 percent to $16.86 on Wednesday as the Minsk meeting continued after the close of trading in New York. Here's a guide to how statements from the Kremlin have helped fuel stock gains:
* The ETF rallied 5.3 percent on Feb. 5 after Kremlin foreign policy aide Yuri Ushakov said Russia would be ready for constructive Ukraine talks as Putin met the leaders of France and Germany the next day.
* The exchange-traded fund soared 6.1 percent Sept. 3 as Putin, who denies involvement in the conflict, outlined a peace plan for the separatist rebellion in eastern Ukraine after agreeing to move toward a cease-fire with his counterpart in Kiev, Petro Poroshenko.
* The fund rose 2.5 percent on Aug. 8 as Putin's administration said that Russia is seeking to mediate between Kiev and insurgents in Ukraine.
* It gained 2.6 percent on June 18, after Putin and Poroshenko discussed a possible cease-fire in southeastern Ukraine the night before.
* The ETF added 4.5 percent on May 7 as Putin said he was pulling troops away from the Ukrainian border.
* The fund soared 6.1 percent on April 17 as talks in Geneva between representatives of Russia, Ukraine, the U.S. and the European Union ended with an agreement to "de-escalate tensions and restore security," the four said in a joint statement.
* The ETF advanced 4.8 percent on March 31 as Putin told Angela Merkel in a phone call he'd ordered a partial withdrawal, the German leader's office said in a statement in Berlin.
Before it's here, it's on the Bloomberg Terminal.
LEARN MORE