PepsiCo's Fourth-Quarter Profit Tops Analysts' Estimates
Lauren Coleman-Lochner and Allison Prang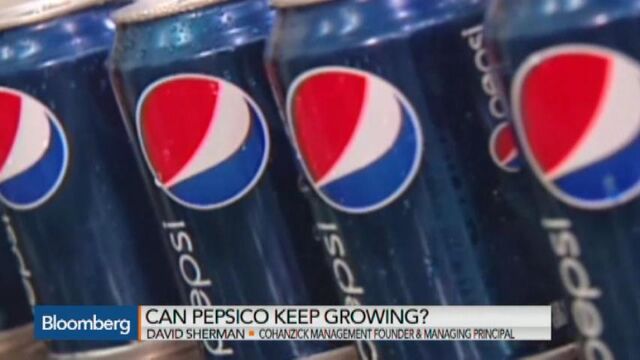 PepsiCo Inc., whose stable of brands includes beverages and the Frito-Lay snack division, posted fourth-quarter profit that topped analysts' estimates even as currency headwinds eroded sales.
Excluding some items, including the currency impact, profit was $1.12 a share in the period, the Purchase, New York-based company said Wednesday in a statement. The average of analysts' estimates compiled by Bloomberg was $1.08 a share.
PepsiCo generated organic sales growth of 5 percent last quarter, helped by gains at its snack and beverage businesses. While currency fluctuations turned that increase into a 1 percent drop, the results showed overlying strength at the company. It also pledged to return $8.5 billion to $9 billion to shareholders through dividends and share buybacks in 2015.
"PepsiCo right now has a lot of momentum," Chief Financial Officer Hugh Johnston said in an interview. The company has increased U.S. sales by $1 billion, lifted by new products such as Naked Juice Kale Blazer and Mountain Dew Kickstart, Johnston said.
The shares rose 2.5 percent to $100.40 at the close in New York. PepsiCo stock has climbed 6.2 percent this year.
Activist Feud
New products now account for 9 percent of sales, compared with 7 percent earlier years ago, a sign the company's innovation push is paying off.
Chief Executive Officer Indra Nooyi also has forged a truce with activist investor Nelson Peltz's Trian Fund Management LP, who had insisted she split the company's snack and beverage businesses. Peltz backed away from his threat of a proxy fight after PepsiCo elected Bill Johnson, a longtime food company executive and adviser to Trian Fund Management, to its board. PepsiCo argues that the company is more valuable intact.
"We think an integrated food and beverage company produces superior results," Johnston said. "And over the last two years, I think we've proven that pretty well."
Still, the incident may have helped sharpen PepsiCo's focus, said Ali Dibadj, a New York-based analyst at Sanford C. Bernstein & Co.
"The pressure from the outside and I guess the voicing of unhappiness has led the company to deliver better results," said Dibadj, who has the equivalent of a buy rating on the shares.
U.S. Strength
Like rival Coca-Cola Co. and other global companies, PepsiCo is coping with the surging value of the dollar, which reduces the value of its sales overseas. Coca-Cola also beat estimates with its fourth-quarter results on Tuesday, saying that North American growth was helping offset a slowdown in the rest of the world.
That's the case with PepsiCo too, Johnston said.
"The U.S. is the market that's performing best from an economic perspective, relative to expectations," he said. The vibrant domestic economy is especially good news for PepsiCo, he said, because its home market accounts for "about half of our revenue and about two-thirds of our profitability."
Overall, currency will reduce earnings growth by 7 percent this year, PepsiCo said. The company expects organic sales growth in the mid-single digits.
"Developing and emerging markets are inherently more volatile," Johnston said. "But the PepsiCo portfolio is broad enough that it enables us to power through that."
Before it's here, it's on the Bloomberg Terminal.
LEARN MORE