Obama to Withdraw U.S. Personnel Fighting Ebola
Angela Greiling Keane and Annie Linskey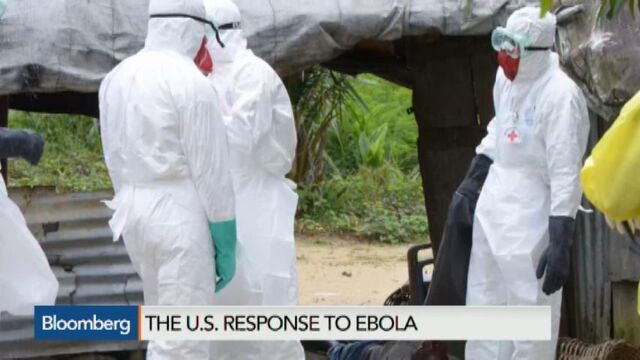 President Barack Obama lauded the "enormous progress" made in stemming an Ebola outbreak in West Africa and said the U.S. is making a transition from fighting the epidemic on an emergency basis to extinguishing it.
Obama said the U.S. is pulling almost all of its military personnel from the region, where they have been helping run supply chains, set up care centers and train health-care workers. By the end of April, only about 100 of the 2,800 troops deployed will remain in western Africa. Civilian workers from the U.S. will remain to provide medical care.
The rate of new confirmed Ebola infections is 80 percent less than it was a few month ago, Obama said at an event at the White House with public health workers, military officials and six of the eight people who contracted the disease and were successfully treated in American hospitals.
The event was "not to declare mission accomplished, but to mark a transition," Obama said. "While our troops are coming home, America's work is not done."
The Ebola outbreak that struck in Liberia, Sierra Leone and Guinea was the worst in history. As of Feb. 7, there were more than 22,000 cases resulting in 9,150 deaths, according to the Centers for Disease Control and Prevention.
The rate of new infections has dropped from about 1,000 a week to 150, according to the White House. The U.S. plans to continue sending public health workers to Africa and bolster the ability of the domestic health-care system to deal with infectious diseases, Obama said.
Philanthropic Money
He also met today with philanthropists who he said can help pay to treat and prevent Ebola as well as other international health crises that might emerge. They included representatives of the foundations run by General Electric Co., Bill and Melinda Gates, and Google Inc. co-founder Larry Page.
Along with a health emergency, the Ebola outbreak became a political issue in the U.S. As the disease spread in West Africa and the first case arrived in the U.S. the Obama took a pounding from Republicans for refusing to ban travelers from the region and impose strict quarantines.
At the height of U.S. Ebola panic last year, Governors Chris Christie, a New Jersey Republican and potential 2016 presidential candidate, and Andrew Cuomo, a New York Democrat, seized the national stage with orders to quarantine health workers returning from regions of Africa where Ebola is epidemic.
Governors Rick Scott, a Florida Republican, and Pat Quinn, an Illinois Democrat, both in close re-election contests at the time, soon followed with their own actions, furthering a patchwork of diverging state-by-state policies on quarantines.
Skepticism
After criticism that the U.S. response was haphazard, Obama brought former adviser Ron Klain back to the White House to lead his effort to counter Ebola's spread, mostly at its source in West Africa. Klain's job is now winding down and he plans to leave the job this week to return to the private sector.
Obama said there "was no small amount of skepticism" about whether the an outbreak could be prevented in the U.S. and he said, without naming anyone, that "some stoked those fears."
Obama gained bipartisan support last year for a $5.4 billion emergency financing request in the fight against Ebola, half of which was dedicated to U.S. efforts to combat outbreaks of infectious diseases.
Before it's here, it's on the Bloomberg Terminal.
LEARN MORE