ING Rises on Dividend Plan After Repaying Bailout
Shane Strowmatt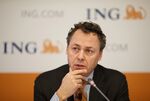 ING Groep NV rose in Amsterdam trading after the lender said it will pay a dividend for the first time since the government came to its rescue during the 2008 financial crisis.
ING gained 3.7 percent to 11.62 euros. The bank plans a dividend of 12 cents, the company said as it reported fourth-quarter earnings Wednesday.
"It's a token dividend, but an indication ING is confident about their capital position," Jean-Pierre Lambert, an analyst at Keefe Bruyette & Woods Inc. with an outperform rating on ING stock, said by telephone from London.
ING received 10 billion euros ($11.3 billion) in Dutch government aid after losses on U.S. mortgage-backed securities in return for a commitment to sell assets. In November, it paid the final installment on its bailout after selling its U.S. retail bank and spinning off insurance businesses on both sides of the Atlantic.
Chief Executive Officer Ralph Hamers has repositioned ING, once a global financial firm, as a lender focused on Europe. He is cutting jobs in its home market, while seeking to boost lending in countries including Germany, Turkey and Spain by relying on online and mobile banking.
Redundancy Charge
ING said today that the payout to shareholders for 2015 will be of at least 40 percent of group profit. Previously, it had said it would pay 40 percent of the lender's banking profit, excluding other activities.
ING will "take a holistic view at the end of the year" before determining "whether paying above the 40 percent is the right thing to do," Chief Financial Office Patrick Flynn said in an analyst call today.
Net income for the full ING group in the fourth quarter increased to 1.2 billion euros from 626 million euros a year earlier. Underlying banking profit, which excludes results from the company's insurance holdings and one-time effects, dropped to 548 million euros ($620 million) from 686 million euros a year earlier. That missed the average estimate of 570.8 million euros in a Bloomberg News survey of six analysts.
"That's a decrease from the previous quarter because of the inclusion of one-offs or volatile items," Hamers said in a call with journalists Wednesday.
ING took a 375 million-euro charge in the fourth quarter related to a plan to cut jobs and invest in IT. In November, the Amsterdam-based company said it will reduce its workforce of about 53,000 by 1,700.
Insurance Sale
Net interest income, the revenue generated from the difference between what banks charge for loans and pay for funding, rose to 3.2 billion euros from 2.9 billion euros a year earlier. A Bloomberg News survey of four analysts predicted net interest income at 3.12 billion euros.
The company's core capital ratio under the full application of the strictest Basel guidelines rose to 11.4 percent, up from
11.1 at the end of the third quarter.
ING holds a 19 percent stake in Voya Financial, Inc., a U.S.-based insurance company, as well as a 68 percent stake in NN Group NV, an insurance company with presence in several European markets and Japan. ING has until the end of 2016 to complete the sale of NN Group under the terms of its bailout.
That could boost dividends, Lambert said. "At the end of the year they'll evaluate the capital surplus and eventually repatriate more than 40 percent to shareholders, depending on how well they do selling their insurance stakes," he said.
The bank hasn't provided details on the timing of any sales. "In terms of NN and Voya, they both have results this week and after that we're free to act," CFO Flynn said in the analyst call, without providing further information.
Before it's here, it's on the Bloomberg Terminal.
LEARN MORE